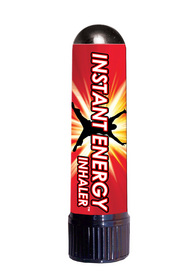 The Instant Energy Inhaler is a combination of four natural, essential oils: ginseng, gingko biloba, camphor and menthol and gives an immediate burst of energy by inhaling the oils from the small tube container into each nostril.
TEMPE, AZ--(Marketwire - Jul 18, 2011) - Sometimes all you need is a little pick-me-up without adding extra calories and jitters often resulting in that inevitable crash. Entrepreneurs Sean Dengler and Jason Swanson have devised the latest energy product that will do just that, called the Instant Energy Inhaler.
Dengler and Swanson's Instant Energy Inhaler breaks the rules when it comes to energy products. It's one of the first energy products that you don't have to ingest or become a victim to caffeine. In fact, all you have to do is inhale and the energy boost is immediate without a five-hour commitment to staying high.
"The idea came to me when I was visiting Thailand and saw people with different bottles of essential oils around their neck that they inhaled," says Dengler, who runs the robotics center at Arizona State University. "It's a pretty common practice there to inhale certain oils to wake the mind and body."
When Dengler returned to the states, he and Swanson, who both have engineering backgrounds, started working on a herbal formulation that could fit in a small tube, the size of a Chap Stick container. The result was what they have named Instant Energy Inhaler, which is a combination of four natural, essential oils: ginseng and gingko biloba (which deliver the energizing effect); and camphor and menthol (which give an intense fresh sensation to the sinuses). The product works by inhaling the oils from the tube container with your nose. Nasal sinus absorption is 10 times faster than digestion, which is required when using energy drinks or food products.
The Instant Energy Inhaler has been a huge hit on college campuses but Swanson says the product is ideal for the busy professional as well.
"It's not a liquid so you can easily take it with you on flights and one hit lasts about an hour so you don't need to worry about being on an energy high for half the day," says Swanson. "When you inhale it, it hits your brain right away and gives you the boost you need, when you need it."
The Instant Energy Inhaler can be found at convenience stores such as Circle K and 7-Eleven and retails for about $2.49 (SRP). For more information visit: www.instantenergyinhaler.com.
Contact Information:
Media Contact:
Amy Summers
813-335-1959

Pitch Inc.