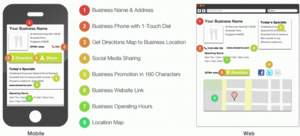 Mobile and web view of Chalkboard
SAN FRANCISCO, CA--(Marketwire - Jul 20, 2011) - Chalkboard, a company that enables local businesses to send real-time updates and offers to nearby consumers via mobile and web, today announced its expansion into the U.S. market with offices in San Francisco, which will be led by CEO Saumil Nanvati. Founded just over a year ago, more than 4,300 businesses have already adopted Chalkboard to share real-time updates and offers with people that are near their business locations. Chalkboard currently reaches over 4.8 million active monthly users through third-party applications and websites.
News Highlights
Chalkboard is currently in the midst of raising a Series A round of funding. Existing investors include Joi Ito's Neoteny Labs, whose investment advisors include Reid Hoffman, co-founder of LinkedIn. Joi Ito is Director of MIT Media Labs and a board member for Chalkboard. Ito previously invested in companies like Flickr and Twitter.
Unlike other services, Chalkboard uses mobile and web to give local businesses the power to do what's always been good for their business -- communicate with customers.
Specifically, Chalkboard:

Enables local businesses to send unlimited real-time updates to people within a mile of their business to promote "on-the-fly" offers or new services, instantly driving awareness and foot traffic to storefronts
Allows businesses to start and end offers at any time with the ease of a text
Costs less than $1 per day for businesses and does not require deep discounts or profit-cutting expenses
Updates feeds to existing social networks such as Facebook and Twitter, leveraging interconnections effectively for maximum impact
Quotes
"Chalkboard is a uniquely positioned product geared toward small and medium-sized businesses (SMBs), a very large but underserved market in the mobile space. The company will be establishing a new category in the U.S. to help businesses connect instantly with local consumers," explained Joi Ito, general partner at Neoteny Labs and advisor to Chalkboard. "Most SMBs do the majority of their business locally. Thus, in most cases mass reach media is a waste of time and money."
"Using Chalkboard has been very simple and effective for us," said Su Moi Toi of Zang Toi Cafe. "With Chalkboard we can send updates from anywhere at any time and it's instant." Zang Toi Café, located in Kuala Lumpur, was founded by world-renowned designer Zang Toi in 1998.
"We are ready to scale rapidly in the U.S. market," said Saumil Nanavati, CEO and co-founder of Chalkboard Pte. Ltd. "Our product has already seen incredible traction and usage because it's instant and easy to use. We see businesses updating messages up to 11 times a month. We offer a simple marketing solution for daily use and this resonates well with small businesses."
Social Media Channels
Twitter
Facebook
LinkedIn
YouTube
About Chalkboard
Chalkboard is a daily marketing solution for every small business enabling businesses to communicate instantly, locally and socially over mobile and web. Business owners can communicate today's special, real-time updates and any information to people nearby their location with the simplicity of a real chalkboard. Chalkboard works with thousands of local businesses and reaches millions of consumers across third party mobile applications, websites and navigation systems.
Founded in February 2010, Chalkboard has offices in Singapore, Malaysia and the U.S. Chalkboard has received strong financial backing from well-recognized investors such as Neoteny Labs, whose investment advisors include Reid Hoffman, co-founder of LinkedIn. Chalkboard board members include Joi Ito, who was recently appointed as Director of MIT Media Labs. Chalkboard was named a Red Herring 100 company in Asia in 2010.
For more information, please visit: http://yourchalkboard.com.
Contact Information:
Media Contact
Suzanne Chan

650-480-4018