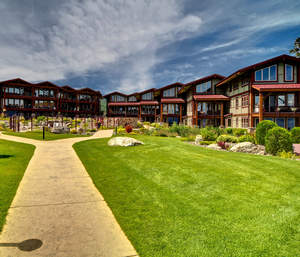 Fourteen units at the Waterside at Flathead Lake Condominium sold at auction on Saturday for $4.5 million by J. P. King Auction Company.
LAKESIDE, MT--(Marketwire - Aug 15, 2011) - At a real estate auction that overlooked Flathead Lake on Saturday, over 250 people gathered for the auction of 14 condominiums at the Waterside at Flathead Lake Condominium. Although only 12 units were advertised to sell, developer Dick McKee chose to sell 14 units instead. The units totaled for a price of $4,564,250.
"We were very pleased with J. P. King's extensive marketing campaign," said McKee. "We had over 400 groups -- which encompassed about 1,000 people -- come through during J. P. King's campaign, and that led to a great turnout on auction day."
Of those 400 tours, 100 of the groups returned to bid on the units at Saturday's auction, an event that included a barbecue lunch and live entertainment under a tent with views of the lake. Bidders traveled not only from throughout Montana, but also from Canada, Florida, Arizona and California to bid on the units, with one California bidder purchasing a unit online.
Of the 14 units, 13 were two-bedroom condos while one featured a three-bedroom floor plan. Six of the advertised units sold at absolute auction with no minimums and no reserves and sold for as high as $632,500.
J. P. King Auction Company specializes in high-value properties and portfolios such as luxury homes, developments, condominiums, land and ranches and have marketed properties in all 50 states and six countries. Upcoming auctions for J. P. King include a mansion on Mercer Island, the Hagadone Estate in Coeur d' Alene, Ida., and 25,000 acres on the Enon and Sehoy Plantations in Alabama. For more information on J. P. King, visit www.jpking.com.
Keep in Touch:
Twitter
Facebook
Craig King's blog
Contact Information:
Contact:
Caley King Newberry
Cell: 256.295.3629