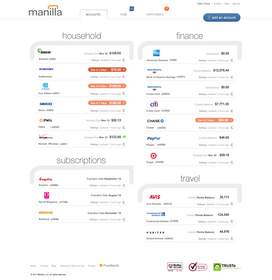 On Manilla.com, you see one organized view of where all your accounts stand.
NEW YORK, NY--(Marketwire - Aug 30, 2011) - The ongoing economic crisis may cause Americans to fret over their household budgets, but that doesn't stop them from throwing money away every day. From unnecessary bank fees to wasted gift cards, we are guilty of several messy money mistakes.
Some of the biggest culprits of wasted money are:
Late credit card fees: On an annual basis, Americans are racking up over $22 billion dollars in charges from late credit card fees and penalties.

Oversized cell plans: Most of us overestimate our cell phone usage and buy oversized plans. In fact, we waste more than $330 a year for unused text, minutes and data, according to BillShrink.com, a cost-savings Web site.

Staggering ATM Fees: ATM fees are tracking higher, with customers now paying an average $2.33 each time they withdraw cash from an ATM that doesn't belong to their bank. Banks, themselves, also charge an average $1.41 for using an ATM outside their network. In total: $3.74 each time you hit an ATM. Do this twice a week and you're looking at close to $400 a year wasted on silly ATM fees.

Gift cards and daily-deal coupons: Americans let $8 Billion go to waste with unused gift cards and unused Internet offers from sites like Groupon or LivingSocial. Reports say 20 to 30 percent of discounted vouchers purchased from daily deal Web sites like Groupon, Living Social and BuyWithMe go unused.

Public transportation: In metro areas, commuters are throwing away dollars on commuter passes they don't use. New York City residents alone have wasted $52 Million on lost or unused Metrocards.
"Most Americans are struggling to stretch the few dollars they have in hand, while at the same time they are letting billions of dollars just fly out of their wallets and pocketbooks," said Farnoosh Torabi, personal finance expert and newly-named financial editor for Manilla.com. "While this situation is troubling, this trend can be easily capped through a combination of common sense and building a workable household budget."
Torabi offers five easy tips to stem the tide of leaking revenue:
Pay your bills on time and online -- Late fees are avoidable and what's worse, paying late can wreak havoc on your credit score. If you have to make a choice about which bills to pay, start with your credit card with the highest interest rate first. Pay far more than the minimum. For the other cards, pay partially or at least the minimum. Additionally, if you automate and schedule your payments online, you will be less likely to fall into late payment traps.

Watch expiration dates -- Use your stored value cards and coupons as soon as possible and only buy what you need and create reminders for the coupons and value cards so you don't lose out on the value. Keep coupons and deal vouchers in your wallet or purse at all times, too, so you don't miss out on redeeming them when the opportunity arises. Store coupons on your phone when available, too. Sites like GroceryIQ and Redplum have mobile apps that let you store your coupons in your phone.

Tweak your cell plan: With your cell phone, consider joining a "Friends and family" plan which can often include anyone you know -- a roommate, partner or neighbor -- and the savings are significant. Also, remember to take advantage of in-network or mobile-to-mobile minutes. Identify the people you call the most. If you share the same carrier with these folks, your calls could be free by signing up for an "in-network" minutes plan with your provider.

Never Pay an ATM fee again. There are several ways you can avoid those pesky ATM fees. First, use your bank's ATMs. You can just download your bank's free mobile application to help you locate a free, affiliated ATM in your neighborhood when you're out on the go. Next, use apps like My Mobile Allpoint App to find surcharge-free ATMs. Your bank may still charge you for using an out-of-network ATM, but you can at least pocket a dollar or two by downloading a free mobile phone application that'll help locate a surcharge-free ATM nearest you. Finally, opt for cash back wherever possible. A number of retailers offer a free cash-back service any time you pay with your debit/ATM card, including many drug stores and supermarkets in the City like Walgreens and Whole Foods. One caveat: The withdrawal limits are usually lower than at ATM machines, capped at $40 or $60.

Cash-In or Swap Unwanted Gift Cards/Deal Vouchers. Bought a Groupon deal that you regret? Received a gift card for a store you don't really love? There are many web sites that can help you either sell or swap your gift cards or vouchers. For example, if you want to swap an unused gift card for another one that's more your taste, check out sites SwapAGift.com and PlasticJungle.com. Also, there are secondary online markets where people are selling their unused vouchers. Sites like Lifesta, DealsGoRound and CoupRecoup are connecting sellers with buyers. The faster you put the deal on the site the better.
About Manilla
Manilla is a free web-based service that helps consumers better manage all of their household accounts, including financial, utilities, subscriptions and travel rewards programs, in one secure place online. Under a single password, Manilla gives customers an automated, organized view of all of their account information, text and email reminders to pay bills, and unlimited storage of account documents that Manilla has seamlessly retrieved for the consumer. Manilla is a company incubated within and backed by the Hearst Corporation, one of the most diversified private media companies in the world, and is led by an executive team of experts and innovators from the finance, technology and consumer products industries. Manilla was recently named as one of Time Inc.'s "10 NYC Startups to Watch." For more information, please visit www.manilla.com.
Contact Information:
Contact:
Lisa Bagley
lbagley@hearst.com
212-649-2337