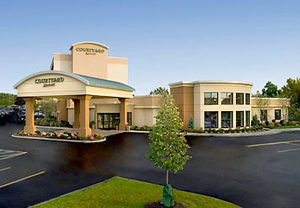 Discover our Akron-Canton Airport hotel's convenient location near the Pro Football Hall of Fame & the city's other top attractions, dining & shopping. Our Akron Airport hotel's accommodations include spacious guest rooms & delicious on-site dining.
NORTH CANTON, OH--(Marketwire - Sep 7, 2011) - Touchdowns are standard terminology in Canton, Ohio, birthplace of the National Football League and home of the Pro Football Hall of Fame; and with that in mind, one of the premier hotels in North Canton was ready and willing to help run the offense for an avid Pittsburgh Steelers fan battling stage four lung cancer.
Thanks to the efforts of Unity, a Journey of Hope, a nonprofit organization based in the Pittsburg area, John Bassin of Waltersburgh was given a guided tour of the Pro Football Hall of Fame accompanied by his two daughters and four grandchildren. As a special treat, Hall of Fame Curator Jason Aikens, took the family behind the scenes for an look at archived memorabilia. As part of the trip, the Courtyard by Marriott Canton hotel provided the Bassin family with free accommodations.
Located just minutes from the Hall of Fame and a distinctive choice among Canton Airport hotels, the Courtyard serves as the official hotel of the popular attraction and was pleased to assist in creating a memorable event for Bassin and one that his children and grandchildren won't soon forget. As a long time Steelers fan, it was Bassin's wish to share his enthusiasm for football with his grandchildren. Highlights of the tour for Bassin included seeing Jack Lambert's shoes, turf from Three Rivers Stadium, Joe Greene's uniform and shoes worn by Franco Harris. Unity, a Journey of Hope, has been granting wishes to adults 18 and older with a life limiting illness since its inception in August of 2007 and relies on the support of corporate sponsors to make wishes a reality. Joining the North Canton hotel's team effort in making Bassin's wish come true were Jerzee's Sports Grillle, Two Fatguys Bar-B-Q and Enterprise of Uniontown.
Conveniently located just five miles from the airport, the Courtyard offers comfortable and relaxing amenities starting with its welcoming lobby and spacious guest rooms all the way through to its exceptional service and high-tech meeting facilities. A stylish choice among hotels near Akron-Canton Airport (CAK), the Courtyard pampers guests with complimentary high-speed Internet access, luxury linens atop thick mattresses and fluffy pillows, a mini-refrigerator and coffee / tea service. In-room media includes cable/satellite service with premium movie channels and pay-per-view movie options. The hotel also boasts a beautiful new indoor pool, perfect for family recreation or workout laps.
About the Courtyard Canton Hotel
The Courtyard Canton hotel is conveniently located near popular destinations making it an ideal choice for both business and leisure travelers. Event planners will find a litany of business equipment and event services available to insure the success of every event. Offering 3,770 square feet flexible event space, the Courtyard is fully prepared with a staff of dedicated event managers and professional catering services to host business conferences, corporate meetings, elegant weddings and grand social affairs.
Contact Information:
CONTACT:
Mike Givens
Marriott Hotels & Resorts
301-547-4761