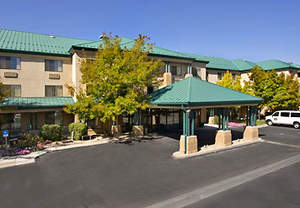 Discover one of the nicest downtown Salt Lake City hotels - the Courtyard Downtown. Ideally situated, our Salt Lake City hotel's downtown location is just steps from shopping, dining & exciting attractions.
SALT LAKE CITY, UT--(Marketwire - Sep 7, 2011) - The 181st Semi-annual gathering of The Church of Jesus Christ of Latter-day Saints is set for October 1-2, 2011 drawing church members and other interested persons to Salt Lake City for two days of General Conference sessions with church leaders.
Conference attendees seeking distinctive Salt Lake City accommodations will find comfortable amenities and exceptional service at the Courtyard Salt Lake City Downtown Hotel, where guests are welcomed with an exciting new state-of-the-art lobby. Conveniently located just a mile from Temple Square, the Courtyard is a comfortable choice among hotels in downtown Salt Lake City, providing guests with spacious and well-appointed guest rooms and a variety of complimentary amenities for a comfortable and budget-friendly stay.
Convening in the church's Temple Square Conference Center in Salt Lake City, Saturday's general sessions are scheduled for 10 a.m. and 2 p.m. The general priesthood meeting is also planned for Saturday and is scheduled to begin at 6 p.m. Sunday's first session is set for 9:30 a.m. and will include Music and the Spoken Word. The final session is set for 2 p.m. Tickets are required for admission to the conference sessions and may be purchased from local priesthood leaders.
Salt Lake City guests will find the Courtyard an ideal choice among hotels near Temple Square, University of Utah, Salt Palace Convention Center and Energy Solutions Arena. Complimentary amenities include high-speed Internet access, hotel parking, full service business center and a boarding pass printing station. This downtown Salt Lake City hotel's functional new lobby includes flexible spaces for working and relaxing; GoBoard technology for keeping up with the latest news, weather and airport conditions, and The Bistro for convenient dining options whether seeking something on the run or leisurely dining with friends and family.
As one of Salt Lake City's finest hotels near Temple Square, the Courtyard Salt Lake City Downtown hotel features king and double guest rooms as well as six hotel suites, all designed to provide a relaxing hotel experience. Cotton-rich linens over soft beds and fluffy pillows allow for a good night's rest, while a spacious desk with plenty of outlets and an ergonomic chair are perfect for working travelers. In-room media includes a 27-inch flat screen TV with cable / satellite service. Two phones with voicemail options are standard along with in-room coffee / tea service.
About the Courtyard Salt Lake City Downtown Hotel
Conveniently located just seven miles from Salt Lake City International Airport, the Courtyard Salt Lake City Downtown is a stylish hotel property providing busy travelers with every opportunity for an exceptional hotel experience. The hotel also features the 960 square foot Centennial Room, ideal for small business meetings, corporate conferences, training sessions or social gatherings. Additional on-site amenities include a refreshing indoor pool, whirlpool and fitness center.
Contact Information:
CONTACT:
Mike Givens
Marriott Hotels & Resorts
301-547-4761