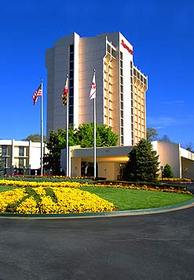 With 399 stylish hotel room and eight luxurious suites, our Bethesda accommodations offer the perfect home away from home. Featuring plush beds, upgraded amenities and an ideal location, our Bethesda lodging welcomes you to the heart of the city.
BETHESDA, MD--(Marketwire - Jan 18, 2012) - There's a lot going on for families in Bethesda in 2012 and if you are struggling with kids with cabin fever, come take advantage of the Escape! Family Time package at the Bethesda Marriott.
The hotel's Bethesda location is nearby many family-friendly activities in downtown Bethesda including Storytime at the Playseum every Monday through Friday, Mouse on the Move live performances at the Imagination Stage, Peter and the Wolf by The Puppet Co., The Snowy Day Adventure Theatre, and much more. For a complete list of upcoming events visit http://www.bethesda.org/.
As one of the area's top hotel deals, Bethesda Marriott is offering The Escape! Family Time Package including the following:
Deluxe accommodations;
Free Kids Meals (from the Kids Menu only) for up to 4 children 12 years of age in the hotel's restaurant for breakfast, lunch, and dinner
This package is priced from $119 per room, per night, exclusive of tax and gratuities. To book this package, call 301-897-9400 and mention promotional code ZJ6 or visit http://www.marriott.com/hotels/hotel-deals/wasbt-bethesda-marriott/. The package is effective through March 31, 2012.
About The Bethesda Marriott
Conveniently located northwest of Washington, DC, in Maryland's Capital Region, our Chevy Chase hotel's thriving location consists of 200 restaurants, 20 art galleries and some of the best shopping in the area. Premier among Bethesda hotels near metro, the Bethesda Marriott features 399 luxuriously chic hotel rooms, 8 distinguished suites, 18,500 sq ft of flexible event space and state-of-the-art Washington, DC meeting rooms. Other hotel facilities include a fitness center, indoor and outdoor pools, and Agio restaurant. For additional information, call 301-897-9400 or visit www.bethesdamarriott.com.
Visit Marriott International, Inc (NYSE: MAR) for company information. For more information or reservations, please visit our website at www.marriott.com, and for the latest company news, visit www.marriottnewscenter.com.
Contact Information:
Press Contact:
Jane Coloccia
JC Communications, LLC
609-737-2587