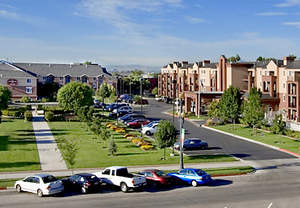 Find the comforts of home in our hotel suites in Salt Lake City. With full kitchens & separate living/sitting areas, rest and relaxation is easy to find in our hotel suites in Salt Lake City, Utah.
SALT LAKE CITY, UT--(Marketwire - Feb 9, 2012) - Mountain slopes surrounding Utah's Salt Lake offer ski bums and snowboarders a smorgasbord of snow sport options, all easily accessible from spacious downtown hotel suites in Salt Lake City, where buffs can rest easy day in and day out as they experience what has come to be known as the "Greatest Snow on Earth."
Collecting an average of 500 inches of dry powdery snow each year, Salt Lake City area ski resorts enjoy a "lake effect" phenomenon that creates an abundance of snow throughout the magnificent steep canyons of the Salt Lake Valley. This popular destination draws skiers and snowboarders from around the world to the warmth and comfort of suites in Salt Lake City, Utah as they experience this remarkable powder and leave their mark on the snowy white trails surrounding the city.
Whether taking on the challenging terrain of the Alta Ski Area, experiencing the breathtaking scenery and comforts of Snowbird, the traditional and diverse family-friendly options at Brighton or the remote tranquility of Solitude and its Big Cottonwood Canyon, there's plenty of powder for everyone and an plenty of fun activities, both on and off the slopes, for a spectacular Salt Lake City winter vacation. Planning a ski vacation to this pristine winter destination with family and friends that includes accommodations at the Residence Inn Salt Lake City - City Center hotel is an ideal way to enjoy easy access to these remarkable slopes and all the city and its surrounding area has to offer.
Providing all the comforts of home and the conveniences of a hotel, ski buffs and snowboarders can take advantage of this Broadway Theatre, Salt Lake City hotel's visitor's guide to plan a detailed trip that includes something for everyone. The Residence Inn Salt Lake City - City Center hotel allows guests to start their day off right with a hearty breakfast served daily at the hotel and provides helpful services such as grocery shopping, complimentary on-site parking and daily housekeeping. Whether heading to the slopes or the nearby Gateway Mall, guests are pampered with gracious amenities and a relaxing atmosphere while staying at the Residence Inn's stylish hotel suites in Salt Lake City, Utah. Guest accommodations include well-appointed studio, one- and two-bedroom suites, all designed with comfort in mind and featuring full kitchens, a separate living area and beds with thick mattresses topped with crisp linens and fluffy pillows.
About the Residence Inn Salt Lake City - City Center Hotel
The Residence Inn Salt Lake City - City Center Hotel presents travelers with an impressive home-like environment while providing pampering services and a relaxed atmosphere for an exceptional hotel experience. Ideally situated in the heart of a vibrant downtown area, guests will find this Broadway District, Salt Lake City hotel's location to be surrounded by outstanding restaurants, breweries and pubs, historic landmarks, popular sporting venues and business destinations.
Contact Information:
CONTACT:
Residence Inn Salt Lake City - City Center
285 West Broadway (300 S)
Salt Lake City, Utah 84101 USA
1-801-355-3300