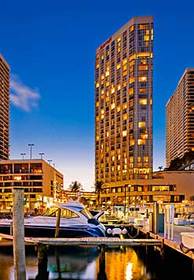 Discover one of the premier Miami hotels - Miami Marriott Biscayne Bay. Featuring waterfront accommodations and luxurious amenities in the heart of the Arts District, this downtown Miami hotel offers a breathtaking location on Bayshore Drive.
MIAMI, FL--(Marketwire - Feb 10, 2012) - An elegant Miami, Florida hotel's dedication to providing couples with the ultimate wedding experience has resulted in national recognition from WeddingWire, a prominent wedding marketplace and sponsor of the prestigious Bride's Choice Awards™.
The inspiring Miami Marriott Biscayne Bay has been chosen as a 2012 recipient of the coveted Bride's Choice Awards™ for its excellence in quality, service, responsiveness and professionalism within the wedding industry.
WeddingWire Bride's Choice Awards™ are awarded based on the reviews of more than 1.2 million newlyweds. Factors include overall rating, number of reviews, review performance from 2011 and consistency of reviews from year to year. As one of this year's winners, the Miami Marriott Biscayne Bay is among the elite top five percent of WeddingWire vendors across the United States and Canada and one of the premier choices for destination weddings in Miami.
WeddingWire is comprised of more than 200,000 wedding professionals from across 20 service categories and through this outstanding awards program is able to recognize the best of the best based on their performance throughout the year. Since inauguration of the awards program four years ago, Wedding Wire and the Bride's Choice Awards™ have honored exceptional wedding professionals for their superior service and dedication to the wedding industry. WeddingWire serves the wedding industry by bringing couples and wedding professionals together in an all-in-one marketing platform with comprehensive services and reviews.
Featuring exemplary indoor and outdoor wedding venues, the Miami Marriott Biscayne Bay hotel offers couples a full menu of bridal services including Marriott Certified Wedding Planners, professional catering with remarkable menu offerings and custom services, perfectly appointed guest rooms, an elegant Grand Ballroom for receiving up to 1,350 guests and a fine selection of banquet halls in Miami for memorable weddings and receptions. Whether planning an intimate ceremony or a large reception, the hotel's welcoming choice of perfectly appointed banquet facilities are ideal for making wedding dreams come true. Couples can choose from a variety of wedding packages and services to create a wedding event that truly reflects their style and personalities. The Marriott also offers a unique Honeymoon Gift Registry to help couples live their dreams through a truly memorable honeymoon experience.
About the Miami Marriott Biscayne Bay Hotel
The Miami Marriott Biscayne Bay Hotel recently underwent a $31 million renovation so guests can enjoy fine luxuries and exquisite accommodations at this bold downtown Miami hotel's stylish waterfront location. Offering remarkable views of Biscayne Bay and a convenient location near the Miami Art Deco District and popular Bayside Marketplace, the hotel features a contemporary lobby, the new Catch Grill & Bar for fine seafood dining options, a relaxing outdoor Marina Terrace, a fifth floor outdoor pool and sun deck and a full-service concierge lounge for added amenities.
Contact Information:
CONTACT:
Miami Marriott Biscayne Bay
1633 North Bayshore Drive
Miami, Florida 33132 USA
1-305-374-3900