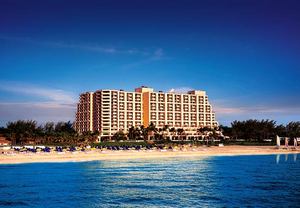 Experience flawless Fort Lauderdale beach weddings at Harbor Beach Marriott Resort & Spa. With stunning beach venues, Fort Lauderdale banquet halls for indoor celebrations and certified wedding planners, your big day will be unforgettable.
FORT LAUDERDALE, FL--(Marketwire - Feb 10, 2012) - Setting the standard for elegant Fort Lauderdale Beach weddings, the distinctive Harbor Beach Marriott Resort & Spa has been recognized for its meticulous facilities and impeccable service as a recipient of the prestigious Bride's Choice Award™ for 2012.
A pristine choice among hotels in Fort Lauderdale, FL for beachfront destination weddings, the Harbor Beach Marriott Resort & Spa has been chosen as a 2012 recipient of WeddingWire's Bride's Choice Awards™ for its excellence in quality, service, responsiveness and professionalism within the wedding industry.
The Bride's Choice Awards™ are awarded annually based on the reviews of more than 1.2 million newlyweds. Factors include overall rating, number of reviews, review performance from 2011 and consistency of reviews from year to year. The award designation puts the Harbor Beach Marriott among the elite top five percent of WeddingWire vendors across the United States and Canada and spotlights the hotel's professional staff for detail oriented wedding and event planning in Fort Lauderdale, FL.
WeddingWire is comprised of more than 200,000 wedding professionals from across 20 service categories and by sponsoring the Bride's Choice Awards™ program is able to recognize the best of the best based on their performance throughout the year. Since the program's inception four years ago, WeddingWire and the Bride's Choice Awards™ have honored exceptional wedding professionals for their superior service and dedication to the wedding industry. WeddingWire serves the wedding industry by bringing couples and wedding professionals together in an all-in-one marketing platform with comprehensive services and personal reviews.
Featuring oceanfront outdoor settings along with panoramic views from its stylish indoor Fort Lauderdale banquet halls and Grand Ballroom, the Harbor Beach Marriott Resort & Spa offers couples a complete line of wedding services starting with personal Marriott Certified Wedding Planners to assist with every detail. Professional catering by skilled culinary artists includes a full line of unique menus or custom services to meet specific needs. Wedding guests will find themselves lavishing in luxury in this Fort Lauderdale hotel's well-appointed accommodations; and for celebrating, the hotel has plenty of space whether looking to receive 20 guests in an intimate setting or up to 1,200 in the resort's stunning Ocean Ballroom, all designed to help make any dream wedding come true.
About the Harbor Beach Marriott Resort & Spa
The Harbor Beach Marriott Resort & Spa offers guests magnificent ocean views and private beaches on 16 secluded acres while being conveniently located near many of the area's most popular attractions. This magnificent resort is also home to a spectacular 22,000 square foot oceanfront spa, offering guests an oasis of full-service spa treatments and relaxing views of the Atlantic Ocean's sparkling blue waters. Whether traveling for business or pleasure, planning an elegant social affair or productive business gathering, this exclusive resort property welcomes guests with impressive accommodations and exceptional service.
Contact Information:
CONTACT:
Harbor Beach Marriott Resort & Spa
3030 Holiday Drive
Fort Lauderdale, Florida 33316 USA
1-954-525-4000