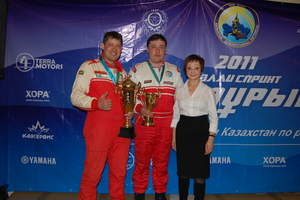 Andrey Amelin, (lead driver) 2011 champion of auto-rally sprint, Samuryk, KZ. Yelubaev Darkhan, (navigator), 2011 champion of auto-rally sprint, Samuryk, KZ. Nelya Ogay, leading specialist of Evolutionary-Meditative Practice HORA, KZ.
CHICAGO, IL--(Marketwire - Feb 14, 2012) - The Evolutionary-Meditative Practice HORA (www.horausa.com) announces a 2nd year sponsorship of the winter auto rally sprint, Samuryk, Kazakhstan 2011, 2012 and invitation for professional athletes to experience the rise of the bio-rhythmical wave test. Athletes training professionally are familiar with this wave of revival, activation.
A professional in a down-sloped performance state after the first exercise of the Practice HORA will acknowledge that he went into an ascending state -- the awakening of vitality, activation. It basically happens in a few seconds.
"I noticed that I became more active, regardless of all the problems and setbacks at work. I also noticed that no matter what, I do not give up and have a desire to always move forward; it is now more interesting to work. My back stopped bothering me," said Andrey Amelin, 31, businessman, 2011 champion of Kazakhstan auto-rally sprint after experiencing the rise of the bio-rhythmical wave test on himself.
Practice HORA is tested in a few minutes. This simple test proves the ability to change one's bio-rhythmical wave (from fall to rise) and adjust it as needed.
Samuryk 2012 auto rally YouTube video: http://www.youtube.com/watch?v=Tgg31CynALc
About Evolutionary-Meditative Practice HORA™
Practice HORA™ is based on the evolutionary-meditative teaching and physical practice created by Master HORA in the late 1980s. It is a training method of growing individual life potential, natural health and reversing biological age. It is ideal for today's busy individuals who require both creative productivity and youthful drive. It is a method that allows one to awaken and constantly support youthfulness. This will increase and extend productivity. Practice HORA presents a unique natural psycho-physical training system where mind and body develop naturally as one.
This method is available in more than 25 training centers worldwide.
Contact Information:
Contacts:

U.S.A.
Svetlana Baklanova
704.737.5353


US Headquarters:
1040 S Milwaukee Ave, Suite 250A
Wheeling, IL 60090
www.horausa.com