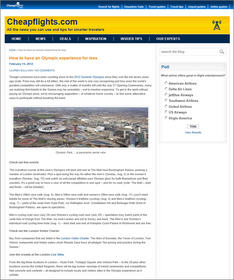 Blog post on Cheapflights.com's tips on How to Have an Olympic Experience for Less. Learn ways to get into the spirit without paying an Olympic price. The guide includes money-saving tips on how to experience the 2012 Summer Olympics whether or not you are planning to be in London this summer.
BOSTON, MA--(Marketwire - Feb 15, 2012) - After years of preparation, it's now just a matter of months until the July 27 Opening Ceremonies of the 2012 Summer Olympics in London. Though Londoners have been counting down since they won the bid seven years ago, the rest of the world is only now recognizing just how soon the world's greatest competition will commence. Cheapflights.com, the online leader in finding and publishing travel deals, shares how you can to get into the spirit without paying an Olympic price with its tips on How to Have an Olympic Experience for Less featuring frugal ways to take part in the Games experience whether or not you are planning to be in London this summer.
Although tickets to the Games may be out of reach both in terms of availability and cost, below are suggestions from Cheapflights.com's tips on How to Have an Olympic Experience for Less offering alternative ways to join in the fun of the Games without breaking the bank. The advice also features money-saving tips for those traveling to London this summer.
Check out free events -- Some of which include: The marathon course at this year's Olympics will start and end at The Mall near Buckingham Palace, passing a number of London landmarks. Pick a spot along the way for either the men's (Sunday, Aug. 5) or the women's marathon (Sunday, Aug. 12) and watch as well-paced athletes earn Olympic glory for both themselves and their counties. It's a great way to have a view of all the competitors in one spot -- and for no cash (note: The Mall -- start and finish -- will be ticketed).


Review the London Visitor Charter -- Buy from companies that are listed in the London Visitor Charter. The likes of Eurostar, the Tower of London, Tom Aikens' restaurants and Indian eatery chain Masala Zone have all pledged "fair pricing and practice during the Games."


Join the crowds at the London Live Sites -- From the big three locations in London -- Hyde Park, Trafalgar Square and Victoria Park -- to the 20-plus other locations across the United Kingdom, there will be big-screen viewings of medal ceremonies and competitions, free concerts and contests -- all designed to include locals and visitors alike in the Olympic experience as it unfolds.


Skip London altogether -- For less crowds and costs, try events taking place outside of London. Some venues, such as those for mountain biking, kayaking, rowing and canoeing are a mere 20-50km away. A tad farther away, Wales, Scotland and spots along British coastline and across the countryside will host Olympic events. Soccer tournaments (in Manchester, Coventry, Glasgow, Newcastle and Cardiff) and sailing events (in Weymouth Bay and Portland Harbor) will make for a very different summer getaway destination than London.


Take a pre-Olympics tour of London -- London has been prepping like crazy to host the world at the upcoming Games. The city will look its best in the months and weeks leading up to the Olympics and, with last year's Royal Wedding and this year's Queen's Diamond Jubilee (early June) as feathers already in its cap, London has proven it's ready to take the stage. With billions of pounds invested in updating and readying the city -- from public transportation to landmark destinations to the creation of the Olympic Park -- this is a chance to see the best of London and get an insider's view of the final preparations for the main events and venues.


Attend the Paralympics -- Every four years, after the national network trucks and camera crews roll out of town, the much more intimate and often more inspiring Paralympians take over the village, competing in virtually all the same sports. As some of the world's most impressive athletes, these competitors have put aside injury, illness and inequality to rise to the top of their sports. The crowds and prices for the Paralympics, running from August 29 - September 9, are less overwhelming, but the performances and achievements are arguably more so.


The remaining tips from Cheapflights.com's guide on How to Have an Olympic Experience for Less feature advice for those wanting to steer clear of London during the Olympic craze yet still participate in the excitement of the Games. Ideas include: Following the torch relay; visiting a past Olympic host city; watching the qualifying rounds; surrounding yourself with adorable Olympic paraphernalia; and finally playing virtual Olympics. To read more about these tips and for Cheapflights.com's complete guide on How to Have an Olympic Experience for Less, go to http://news.cheapflights.com/how-to-have-an-olympic-experience-for-less/.
About Cheapflights Media
Cheapflights Media is an international media network helping over 11 million visitors a month find top travel deals. Our Cheapflights brand was launched in 1996 and pioneered the online comparison of flight deals for users. Today, users compare a wide range of deals from hundreds of partners including online travel agents, consolidators and airlines to find the very best flight deals. With a mission to be the starting point for travel, Cheapflights works to deliver the industry's best airfare bargains, expert tips and inspiration. There are currently Cheapflights sites in the U.K., U.S., Canada, Germany, Australia & New Zealand, France, Italy and Spain. For more information, visit www.cheapflights.com. Our newest brand, Momondo, is a leading travel search engine for finding comprehensive worldwide pricing and availability on airfares. Winner of several awards, the site is ideal for users on specific travel schedules. For more information, visit www.momondo.com.
Contact Information:
Contact Information:
Dalia Blumenthal
Publicist
Tel: +1 416-926-1967
Mobile: +1 416-788-4573
E-mail:
Website: www.cheapflights.com