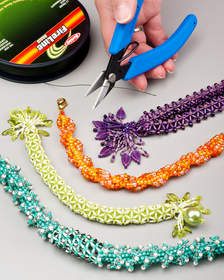 The Xuron(R) Model 9180 Shear features a serrated edge to keep super-strong, slippery fibers in place and a super sharp cutting edge, making it ideal for bead weavers.
SACO, ME--(Marketwire - Aug 14, 2012) - Xuron Corporation has introduced an easy to use scissors that is especially designed for cutting Fireline® which, of course, is ideally suited for bead weaving, bead stringing, and bead embellishing.
The Xuron® Model 9180 Shear has cushioned rubber hand grips and a gentle return spring, rather than cumbersome finger loops, and fits comfortably in any size hand. Featuring a cutting edge that remains sharp because of a proprietary grinding technique and a serrated edge to keep the super-strong, slippery fibers in place, this durable scissors is ideal for bead weavers.
Besides being capable of cutting Fireline®, the Xuron® Model 9180 Shear cuts cleanly without fraying and has an open design that can be quickly picked up and manipulated without fumbling. Built to last, this industrial-grade ergonomic scissors is made from precision ground, heat treated carbon steel and employs the proper cutting leverage to minimize squeezing.
The Xuron® Model 9180 Shear sells for $24.50 (sugg. retail). The firm manufactures a complete line of ergonomic cutters and pliers for jewelry making, hobbyists, and crafters. The creator of the jewelry in the accompanying photograph is Connie Birmingham, Bead Weaver, Teacher, and artist.
About Xuron Corp.
Xuron Corp. is one of the world's leading manufacturers of ergonomic electronics-grade hand tools for the electronics, aerospace, plastic molding, hobbies, craft, floral and fishing industries. The company holds numerous domestic and international patents, including an inventor's patent for the original Micro-Shear® flush cutter and its unique cutting action which creates smooth, clean cuts without compression. Xuron tools are manufactured in Saco, Maine, where quality, an outstanding work ethic, and flawless craftsmanship are a long-time tradition. They are available at hundreds of distributors worldwide who offer more than 100 different types of Xuron quality-crafted hand tools and associated products including a Kevlar® cutter.
Contact Information:
For more information contact:

Xuron Corporation
Abby Robey
Marketing
62 Industrial Park Road
Saco, ME 04072-1840
(207) 283-1401
FAX (207) 283-0594
e-mail: arobey@xuron.com
www.xuron.com