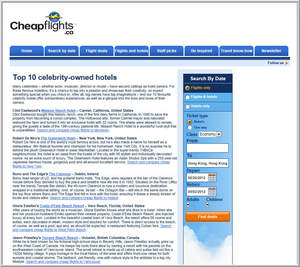 Screenshot of Cheapflights.ca's Top 10 Celebrity-Owned Hotels. With their travel experience and creative flare, many celebs have created hotels that are A-list in their own right and worth checking out, or into, in order to get an up close and personal glimpse into the life of the rich and famous.
TORONTO--(Marketwire - Aug 21, 2012) - Ever wonder what it would be like to live like a star? While the gossip magazines and the entertainment news shows give us some idea, Cheapflights.ca, the online leader in finding and publishing travel deals, suggests another way into their world: check into one of their hotels. Our travel experts have compiled their list of Top 10 Celebrity-Owned Hotels to guide you in your quest for an A-list experience.
Get a glimpse into the life of the rich and famous by checking out, or into, one of these six celebrity-owned hotels located on this side of the Atlantic that made our list. And keep an eye out as you never know when you might bump into an owner.
Clint Eastwood's Mission Ranch Hotel - Carmel, California - Clint Eastwood bought this historic ranch, one of the first dairy farms in California, in 1986 to save the property from becoming a condo complex. The Hollywood star, former Carmel mayor and naturalist restored the farm and turned it into an exclusive hotel with 32 rooms. The sheep were allowed to remain, giving the guests a taste of the 19th-century pastoral life. Mission Ranch Hotel is a wonderful rural idyll that is unparalleled.


Robert De Niro's The Greenwich Hotel - New York, New York - Robert De Niro is one of the world's most famous actors, but he's also made a name for himself as a restaurateur, film festival founder and champion for his hometown, New York City. It is no surprise he is behind the plush Greenwich Hotel in lower Manhattan. Located in the super-trendy TriBeCa neighbourhood, the hotel is an oasis from the hustle of the city with 88 stylish and individually decorated rooms. As an extra touch of luxury, The Greenwich Hotel features an Asian Shubui Spa with a 250-year-old Japanese bamboo house, gorgeous pool and all-around excellent service.


Gloria Estefan's Costa d'Este Beach Resort - Vero Beach, Florida - After years of touring the world as a musician, Gloria Estefan knows what she likes in a hotel. When she and her producer-husband Emilio opened their newest property, Costa d'Este Beach Resort, she injected luxury at every turn. Located in the beautiful coastal town of Vero Beach, the resort offers 98 rooms and suites, each decorated in sleek, modern style and stocked for comfort. There is direct access to the beach, of course, as well as a pool, spa and, as should be expected, a restaurant featuring Cuban fare.


Jason Priestley's Terrace Beach Resort - Ucluelet, British Columbia, Canada - While he is best known for his fictional high-school days in Beverly Hills, Jason Priestley actually grew up on the West Coast of Canada. He keeps his roots there alive by owning a resort with his parents on the southwestern coast of Vancouver Island. The small retreat is made up of cabins and suites laid out like a 1920s fishing village. It pays homage to the local history of the area and offers front-row views for both sunsets and coastal storms. The laidback, pet-friendly, one-with-nature style is the antidote to a big city lifestyle.


Bob Marley's Marley Resort & Spa - Nassau, Bahamas - For 16 years, the family of reggae legend Bob Marley called this beachfront retreat home. Now guests can have their own chance at island living at this small resort, which offers 16 rooms and suites, a gourmet Caribbean restaurant, and a bar called Stir It Up. Bob Marley's wife, Rita, who transformed this former governor's palace first to a family vacation home and then to a hotel, placed great emphasis on equipping the resort with wellness and warmth, along with works of art from Africa and the Caribbean.


Francis Ford Coppola's Blancaneaux Lodge - San Ignacio, Belize - In a secluded corner of the Mountain Pine Ridge Forest Reserve lies this charming 20-lodge resort designed to slide you perfectly into the surrounding natural environment. With a mix of rustic and amenity-filled cabins strewn along a waterfall-fueled river, the property is ideal for contemplating starry nights, relaxing in hammocks, exploring a vast realm of unspoilt nature and embracing the meaning of getting away.


Rounding out the list are four hotels located across the pond: Bono and The Edge's The Clarence in Dublin, Ireland; Abba's Benny Andersson's Hotel Rival in Stockholm, Sweden; Elizabeth Hurley's No. 11 Cadogan Gardens in London, England and Simple Minds' Jim Kerr's Hotel Villa Angela in Taormina, Sicily, Italy. To read the star-studded details on these hotels and Cheapflights.ca's complete list of Top 10 Celebrity-Owned Hotels, visit www.cheapflights.ca/promos/top-10-celebrity-owned-hotels.
About Cheapflights Media
Cheapflights Media is an international media network helping over 11 million visitors a month find top travel deals. Our Cheapflights brand was launched in 1996 and pioneered the online comparison of flight deals for users. Today, users compare a wide range of deals from hundreds of partners including online travel agents, consolidators and airlines to find the very best flight deals. With a mission to be the starting point for travel, Cheapflights works to deliver the industry's best airfare bargains, expert tips and inspiration. There are currently Cheapflights sites in the U.K., U.S., Canada, Germany, Australia & New Zealand, France, Italy and Spain. For more information, visit www.cheapflights.ca. Our newest brand, Momondo, is a leading travel search engine for finding comprehensive worldwide pricing and availability on airfares. Winner of several awards, the site is ideal for users on specific travel schedules. For more information, visit www.momondo.com.
Contact Information:
Contact Information:
Dalia Blumenthal
Publicist
Tel: +1 416-926-1967
Mobile: +1 416-788-4573
E-mail:
Web: www.cheapflights.ca