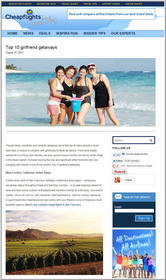 Blog post on Cheapflights.com's Top 10 Girlfriend Getaways. To all the women in need of a break, our travel experts are prescribing a vacation with the girls. For some ideas, check out these destinations that cover a range of interests from great music to great spas to the great outdoors.
BOSTON, MA--(Marketwire - Aug 28, 2012) - Summer vacation has now come and gone. For many women, this comes as somewhat of a relief. After all, summer vacation is often about planning fun for the family. Now that the break is over, though, it can be about planning some fun for you. For all the women in need of more than just a girls' night out, the travel experts at Cheapflights.com, the online leader in finding and publishing travel deals, have some suggestions for how to up the ante with their Top 10 Girlfriend Getaways. Whether you and your friends want low key, high energy or old fashion hijinks, this list has you covered.
Here are five destinations to make our list where you and your friends can indulge in some of the all-time favorite girlfriend pastimes including excellent food, delicious wines, fantastic shopping and simply fun, fun and more fun:
Wine Country, California - A short drive north of San Francisco, Northern California's wine region -- comprising renowned valleys throughout Napa and Sonoma counties -- is an awe-inspiring retreat for wine and food lovers, outdoor enthusiasts and travelers looking for a full-body, vino-centric respite. Hire a car service, visit vineyards, meet winemakers, nosh on culinary delicacies in quaint towns like Healdsburg and sip bubbly with your friends in one of America's most beautiful regions.


Las Vegas, Nevada - Considered a boys' town by many (including Prince Harry), Las Vegas is a wonderland for ladies looking for a weekend away from it all. The world's most inspiring chefs are at the helm of four- and five-star restaurants along The Strip, a four-mile stretch in the center of town composed of hotels and casinos that range from seedy to swanky. Stop in some of the more enticing landmarks -- like the Bellagio or Wynn resorts and casinos -- for unforgettable meals followed by high-caliber shows and entertainment. 


Piedmont, Italy - The home of Nutella, bold red wines and the Slow Food movement, Italy's Piedmont region is the stuff of (very good) dreams. Some of Italy's most impressive wines (Barolo, Barbaresco, Barbera, Dolcetto) and foods (white truffles, fritto misto) are produced in the northwest corner of the country, beckoning appreciators of deliciousness to visit. Consider a bike tour with girlfriends; a scenic and calorie-burning way to see Piedmont's rustic towns and countryside.


Hong Kong - For the friends who love to shop, a long haul to Hong Kong is well worth it. Collectors of antiques, electronics, high-end fashion, jewelry -- basically any goods that women might want to buy -- can be found in Hong Kong, a province with no sales tax or VAT. The shopping possibilities are endless; try your hand at haggling or browse stress-free at one of the many shopping malls and street markets (like the famous, appropriately named, Ladies Market).


New Orleans, Louisiana - There is no better place to relax and enjoy a slower pace of life than the Big Easy. Of course cocktails are in order, and, this being New Orleans, you'd be remiss not to order up a sazerac -- possibly America's oldest cocktail, made of whiskey, sugar and bitters -- wherever you go. Live music, also a must, can be found just about everywhere; places like Tipitina's, Preservation Hall and the Howlin' Wolf are among the many venues for the classic New Orleans big band jazz acts.


Rounding out our list of top girlfriend getaways are destinations that offer a combination of relaxation, adventure and something new to try with the girls. These include Ecuador; Tanzania; Bali, Indonesia; Banff, Alberta; and Costa Rica. To read the details on these female fun escapes and Cheapflights.com's complete list of Top 10 Girlfriend Getaways, visit news.cheapflights.com/top-10-girlfriend-getaways.
About Cheapflights Media
Cheapflights Media is an international media network helping over 11 million visitors a month find top travel deals. Our Cheapflights brand was launched in 1996 and pioneered the online comparison of flight deals for users. Today, users compare a wide range of deals from hundreds of partners including online travel agents, consolidators and airlines to find the very best flight deals. With a mission to be the starting point for travel, Cheapflights works to deliver the industry's best airfare bargains, expert tips and inspiration. There are currently Cheapflights sites in the U.K., U.S., Canada, Germany, Australia & New Zealand, France, Italy and Spain. For more information, visit www.cheapflights.com. Our newest brand, Momondo, is a leading travel search engine for finding comprehensive worldwide pricing and availability on airfares. Winner of several awards, the site is ideal for users on specific travel schedules. For more information, visit momondo.com.
Contact Information:
Contact Information:
Dalia Blumenthal
Publicist
Tel: +1 416-926-1967
Mobile: +1 416-788-4573
E-mail:
Website: www.cheapflights.com