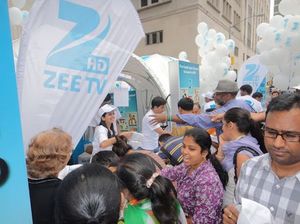 Zee TV at the India Day Parade
NEW YORK, NY--(Marketwire - Sep 4, 2012) - The India Day Parade organized by FIA (Federation of India Association) is the largest gathering of South Asians in New York City! This year the event saw 108,000 attendees. India Day Parade chief guests this year included Bollywood star Saif Ali Khan along with cricket legend Anil Kumble. Zee TV announced its launch in HD making it the first South Asian channel to go HD in the US! As expected, Zee painted the town blue and added color, music and vibrancy to the entire event.
Zee TV HD was promoted through various activities at the India Day Parade -- families had a chance to take part in an exclusive raffle to win iPads. Winners were chosen during the course of the day. Raffle winner Rohan Savant said, "I'm thrilled to win an iPad courtesy of Zee and I'm looking forward to seeing Zee in HD!" Zee TV created a Zee Zone. Jagdish Patel, a resident of Long Island, said, "Hands down Zee TV HD has the best booth at this event!" This modern space allowed raffle entrants to walk away with cool goodies such as eco-friendly tote bags, water bottles, t-shirts and hats. Families also had an opportunity to make memories with the Zee TV HD photo booth where they could take FREE pictures! Thousands of pictures were taken at Zee TV HD's free photo booth. Commenting on the Zee tote bags, event attendee Avni Modi said, "The Zee HD bag is so cool, I would carry it to work every day!"
Zee's colors blue and white were seen everywhere whether it was at Zee's unique booth or through the parade. Preeti Patel, an attendee from the financial district, said, "I've never seen something so cool at India Day, my friends and I had a great time at the Zee booth!" Radio personality Sunil Thakkar kept attendees in splits with his comedy while DJs at the Zee booth added music to the festivities.
Apart from the freebies and photos, attendees also had an opportunity to sport the Zee brand through FREE henna tattoos. Overall, Zee TV HD kept attendees entertained and in high spirits.
Contact Information:
Contact:
Vibha Chopra
Asia TV USA Ltd

646 745 9000