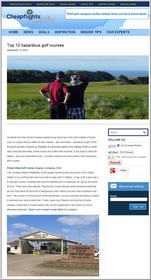 Blog post on Cheapflights.com's Top 10 Hazardous Golf Courses. With the Ryder Cup coming up at the end of September, here's a look at the edgier side of golf. With crocodiles, sharks, sand dunes and icebergs, these courses all offer a very different day on the links.
BOSTON, MA--(Marketwire - Sep 11, 2012) - Later this month, from September 28-30, US and European teams will compete in the Ryder Cup -- a biennial golf competition taking place this year at the Medinah Country Club, outside of Chicago. To get into the spirit of this sometimes ferocious match-up, the travel experts at Cheapflights.com, the online leader in finding and publishing travel deals, decided to take a look at the edgier side of golf. While the Ryder Cup's teams are playing one form of high-stakes golf, we unearthed some others with our list of Top 10 Hazardous Golf Courses. From crocodiles to sharks to sand dunes and icebergs, these courses definitely add a little excitement and adrenaline to a typical round of golf.
While the game of golf typically conjures up thoughts of manicured greens and collared shirts, discover another side of the sport at one of these five hair-raising golf courses to make our list.
Prison View Golf Course, Angola, Louisiana - The Louisiana State Penitentiary is the largest maximum-security prison in the United States. It is a working farm and runs both a radio and TV station. To top it off, it also has a 9-hole golf course, complete with practice facilities and a clubhouse, for use by the public for $10. There are a few catches: Playing this course requires some advanced planning, as you must allow 48 hours for a background check before you can even schedule a tee time. The course is on the ground of the penitentiary, so you must also be willing to submit to personal and vehicle searches. Finally, leave your firearms and alcohol at home (always a wise idea in a place where play can be suspended in the event of a riot or attempted jailbreak).


Singapore Island Country Club, Singapore - This historic club, the oldest and one of the most prestigious on the island nation of Singapore, will always be associated with wild animal encounters after the infamous 1982 pro event where Jim Stewart came face to face with a 10-foot cobra. He killed it, only to watch in horror as another snake emerged from its mouth. While much has changed in Singapore since 1982, a round at the Singapore Island Country Club can still be an adventure. Members are now warned of wild boar encounters, with advice to walk calmly away when crossing paths with one. The official "local" rules of the course include the addendum that any area damaged by digging from wild boar, monkeys or other non-burrowing animals may be considered "ground under repair."


Lost City Golf Course, Sun City, South Africa - A relaxing round of golf in the wild beauty of South Africa sounds ideal, right? Certainly it does when the course is designed and built by South African golf superstar Gary Player and showcases the desert, the mountains, the parklands and 28,000 square meters of water features. But don't be lulled in by the scenery as danger and excitement lurk alongside hole 13. Here, the water hazard guarding the green is home to roughly 40 Nile crocodiles, some six feet or more in size. Players are cautioned to bring extra balls and take a drop rather than venture after a shot in or near this imposing crocodile pit.


Merapi Golf Course, Yogyakarta, Indonesia - People visiting this public course on the outskirts of the ancient city of Yogyakarta report beautiful weather, stunning views and an almost mystic feeling from the location. It's an awe-inspiring round, especially when you realize the mountain overshadowing the course is Mount Merapi, an active volcano that last erupted in Dec. 2010. The wave of ash that blew over the course and the surrounding area has been cleaned up and play has resumed. Just keep an ear out for the emergency warning alarms!


Camp Bonifas, Panmunjom, South Korea - Camp Bonifas is home to a single hole, par-3 "golf course" abutting the most heavily fortified border in the world. The camp, the base for the United Nations Command, is 400 meters south of the demilitarized zone (DMZ) that serves as a buffer between North and South Korea. The 192-yard hole is lined by an 18-foot security fence and unexploded mines that can be triggered by errant shots. Players report wild animal encounters too, including brushes with local "vampire deer" and a creature described as a "man-bear-pig." When you have only one hole to play, at least it's good to know every time out is an adventure in the making.
Rounding out our list of extreme golf courses are: Carbrook Golf Club, Brisbane, Australia; World Ice Golf Championship, Uummannaq, Greenland; The Ocean Course Golf Course, Kiawah Island, South Carolina; Skukuza Golf Course, Kruger National Park, South Africa; and Cape Kidnapper's Golf Course, Hawke's Bay, New Zealand. To read Cheapflights.com's complete list of Top 10 Hazardous Golf Courses visit http://news.cheapflights.com/top-10-hazardous-golf-courses/.
About Cheapflights Media
Cheapflights Media is an international media network helping over 11 million visitors a month find top travel deals. Our Cheapflights brand was launched in 1996 and pioneered the online comparison of flight deals for users. Today, users compare a wide range of deals from hundreds of partners including online travel agents, consolidators and airlines to find the very best flight deals. With a mission to be the starting point for travel, Cheapflights works to deliver the industry's best airfare bargains, expert tips and inspiration. There are currently Cheapflights sites in the U.K., U.S., Canada, Germany, Australia & New Zealand, France, Italy and Spain. For more information, visit www.cheapflights.com. Our newest brand, Momondo, is a leading travel search engine for finding comprehensive worldwide pricing and availability on airfares. Winner of several awards, the site is ideal for users on specific travel schedules. For more information, visit momondo.com.
Contact Information:
Contact Information:
Dalia Blumenthal
Publicist
Tel: +1 416-926-1967
Mobile: +1 416-788-4573
E-mail:
Website: www.cheapflights.com