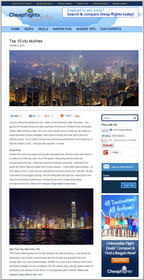 Blog post on Cheapflights.com's Top 10 City Skylines. A skyline is like the city's fingerprint -- you won't see one like it anywhere else in the world. For our picks of the top city skylines around the world, we're featuring 10 that are massive, iconic -- and just plain beautiful -- in scale.
BOSTON, MA--(Marketwire - Oct 9, 2012) - New York City's Empire State Building; Paris' Eiffel Tower; Sydney's Opera House -- each of these world-renowned city landmarks is an icon in its own right. They are all also cornerstones of some the most recognizable skylines in the world. Skylines are like the fingerprint of a city with no two that are identical. The travel experts at Cheapflights.com, the online leader in finding and publishing travel deals, took a spin around the globe in search of the best and most beautiful of these cityscapes and came up with their Top 10 City Skylines. When traveling to these destinations, make sure to book a window seat in order to get the bird's eye view of these fascinating skylines.
Below are five of Cheapflights.com's Top 10 City Skylines from five different continents:
Hong Kong - Packed with more skyscrapers and people living above the 14th floor (read: that makes it a 'vertical city') than any other city on the planet, Hong Kong and its skyline are transforming by the day. Towering across the impressive panorama -- best seen from above at Victoria Peak and below from Victoria Harbour -- is the HSBC Main Building, I. M. Pei's Bank of China Tower and the International Commerce Centre (at 1,588 feet, the last is the world's third-largest building). We don't anticipate that high-rise construction in the neon-lit city will slow anytime soon, so keep an eye out for Hong Kong's latest architectural wonders.


New York City, New York - The Empire State Building, the Chrysler Building, the MetLife Building -- need we go on? Manhattan's epic skyline is synonymous with the diversity and possibility that echo through New York City's gridded streets. Whether it's a view of the Financial District from the Brooklyn Bridge or a look at Midtown from the Hudson River, the Big Apple's stretch of landmarks, from Brooklyn to the Bronx, is a recognizable sight to behold.


Sydney, Australia - There are few buildings more iconic than the Sydney Opera House, so it's hard not to see it as the figurative centerpiece of the clustered, modern skyline of Sydney. The distinctive modernist roof of the multi-venue performance center (the UNESCO World Heritage Site is not just for operas) looks like either a series of shells or the sails of a vast schooner. Other buildings -- like 1 Bligh Street, Sydney Tower and MLC Centre -- similarly represent the best in world-class architecture, making the skyline of Australia's largest city -- which overlooks the historic and beautiful Sydney Harbour -- unforgettable.


Rio de Janeiro, Brazil - Its defining landmark is one of the New Seven Wonders of the World, so it should come as no surprise that Rio's skyline made our cut. Is there a more iconic monument than the city's Christ the Redeemer statue atop Corcovado Mountain? "Marvelous City," as its nickname translates, covers a stretch of Brazil's Atlantic Coast that blends natural wonders seamlessly with man-made achievements. Millions live together in the socioeconomically divided city, which has preserved churches and buildings since the 1500s. The dichotomies of the skyline and the people -- old and new, rich and poor -- are the pulse of Rio de Janeiro.


Paris, France - Utterly flat compared to our other picks, Paris owes its top-10 worthiness mostly to its landmarks that romantically dot the City of Light's cityscape. After one visit to Sacré Cœur Basilica at the top of Montmartre -- complete with an aerial view of a glistening skyline, poetically interrupted by the Eiffel Tower -- travelers seem to understand the magic of Paris. Trace its broad boulevards -- from the Arc de Triomphe down the Champs Elysées to Concorde and the Musée du Louvre -- and admire the city's unparalleled urban planning feats.

The other cities rounding out our list of top skylines are: Dubai, United Arab Emirates; Chicago, Illinois; Kuala Lumpur, Malaysia; Shanghai, China; and Moscow, Russia. To find out more about what makes these cities special and to read Cheapflights.com's complete Top 10 City Skylines, visit http://news.cheapflights.com/top-10-city-skylines.
About Cheapflights Media
Cheapflights Media is an international media network helping over 11 million visitors a month find top travel deals. Our Cheapflights brand was launched in 1996 and pioneered the online comparison of flight deals for users. Today, users compare a wide range of deals from hundreds of partners including online travel agents, consolidators and airlines to find the very best flight deals. With a mission to be the starting point for travel, Cheapflights works to deliver the industry's best airfare bargains, expert tips and inspiration. There are currently Cheapflights sites in the U.K., U.S., Canada, Germany, Australia & New Zealand, France, Italy and Spain. For more information, visit www.cheapflights.com. Our newest brand, Momondo, is a leading travel search engine for finding comprehensive worldwide pricing and availability on airfares. Winner of several awards, the site is ideal for users on specific travel schedules. For more information, visit momondo.com.
Contact Information:
Contact Information:
Dalia Blumenthal
Publicist
Tel: +1 416-926-1967
Mobile: +1 416-788-4573
E-mail:
Website: www.cheapflights.com