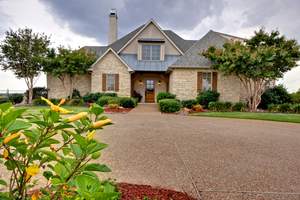 The Collin County Estate is a three-bedroom ranch home sitting on 80 acres at one of the highest elevations in Celina
Take a property tour of the Collin County Estate in Celina, Texas
CELINA, TX--(Marketwire - Oct 25, 2012) - Sitting just north of the Dallas/Fort Worth metro is a private estate on 80 acres, accompanied by a tree-lined driveway, two ponds and a creek spread across 80 acres. The Collin County Estate will sell on November 15 at an absolute auction with no minimums and no reserves. J. P. King Auction Company will conduct the sale.
The three-bedroom, 3.5-bath ranch estate sits at one of the highest elevations in Celina. With an open floor plan and a great room that features wood-beamed ceilings and a floor-to-ceiling fireplace, the double doors lead to an outdoor living space that is designed for entertaining, with plentiful landscaping, tree-lined views, a swimming pool and a hot tub. The home also includes a library with a fireplace, a formal dining room, loft space and a large master suite, complete with a fireplace and a private patio.
Offering two award-winning school districts, Celina is home to some of the best school districts in the state with accomplished athletic programs. Also a common home base for Dallas athletes, Celina is a growing community located just outside the Dallas/Ft. Worth metro.
The auction will take place on Thursday, November 15 at 11 a.m. at the home, which is located at 9323 County Road 209 in Celina. Property tours will be available on November 2-4 and again from November 10-15. For additional information, individuals may contact J. P. King at 800.558.5464 or visit the company's website at www.jpking.com.
J. P. King will conduct an additional auction in the Dallas metro area on December 6, where two penthouse units in the Lonestar Tower, which overlooks the Texas Motorspeedway Racetrack, will sell at an absolute auction with no minimums and no reserves. Both units have two bedrooms and views of the track and grandstands.
About J. P. King: J. P. King Auction Company specializes in high-value properties and portfolios such as luxury homes, developments, condominiums and land and ranches. The company has marketed properties in all 50 states and six countries with recent sales in Colorado, Wyoming, Georgia, Florida and Washington.
Keep in Touch:
Twitter
Facebook
Craig King's blog
Contact Information:
Contact:
Caley King Newberry
Cell: 256.295.3629
Email: cnewberry@jpking.com