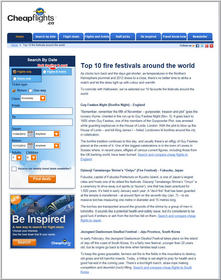 Screenshot of Cheapflights.ca's Top 10 Fire Festivals around the World. As we begin the descent into shorter days, longer nights and increasing winter chill, Cheapflights warms things up with their blazing list of fire festivals around the globe.
TORONTO--(Marketwire - Oct 31, 2012) - With the clocks going back an hour this upcoming weekend, we begin the descent into shorter days, longer nights and increasing winter chill. To warm things up, the travel experts at Cheapflights.ca, the online leader in finding and publishing travel deals, have compiled their list of Top 10 Fire Festivals around the World.
Here are five fire festivals from our list lighting up over the next month.
Guy Fawkes Night (Bonfire Night) - England - "Remember, remember the fifth of November -- gunpowder, treason and plot" goes the nursery rhyme, chanted in the run-up to Guy Fawkes Night (Nov. 5). It goes back to 1605 when Guy Fawkes, one of the members of the Gunpowder Plot, was arrested while guarding explosives in the House of Lords, London. With the plot to blow up the House of Lords -- and kill King James I -- foiled, Londoners lit bonfires around the city in celebration. The bonfire tradition continues to this day, and usually there's an effigy of Guy Fawkes placed at the centre of it. One of the biggest celebrations is in the town of Lewes in Sussex where, in recent years, effigies of various current figures, including those from the UK banking world, have been burned.


Diwali - India - The best-known Hindu festival is known as the "festival of lights". Diwali (or Deepavali) means "rows of lighted lamps" and, during this time, houses, shops and public places are decorated with diyas (small earthenware oil lamps), elaborate feasts are prepared and spectacular fireworks displays light up the skies. The five-day festival (Nov. 13 - 17 this year) celebrates the triumph of good over evil and is celebrated throughout India and around the world (in Singapore, Trinidad and Tobago, Mauritius, Myanmar and London among many others).


Samhain 2012 - Out of the Darkness - Altoona, Florida - More than 500 pagans gather in Florida for the state's largest pagan festival. Running between Oct. 31 and Nov. 4 at Camp Ocala, each day is filled with feasting, rituals, drumming, dancing and live entertainment. The main ritual in 2012 is centred around the "Burning Times" when so-called "witches" were put to death.


Ottery St Mary - Devon, England - In the small town of Ottery St Mary, the bonfire and fireworks are not the focal point of the community's celebrations. This Nov. 5, it will be the local townspeople carrying flaming barrels of tar through the streets. In a tradition that predates even 1605 it is said, 17 barrels are carried, starting in the afternoon, with small barrels for boys, medium barrels for youths and women and "gert big unz" for the men. Traditionally, the barrels are set on fire at pubs and hotels around the town and a strict schedule is followed until midnight when the final barrel is carried in the square.


Bonfire Night - Newfoundland, Canada - When English and Irish people, in search of a better life, crossed the Atlantic Ocean to Canada, they took their traditions with them. The English took Guy Fawkes Night, the Irish took Samhain and over time the traditions merged into Mischief Week. With a belief that certain types of naughty behaviour (soaping windows, taking pins from gate hinges or stealing old tires for bonfires) is permitted at this time, many of Newfoundland & Labrador's close-knit communities hold bonfires and celebrations.

Rounding out our list are five fire-blazing festivals to warm you up throughout the winter months including: Daizenji Tamataregu Shrine's "Oniyo" (Fire Festival) - Fukuoka, Japan; Jeongwol Daeboreum Deulbul Festival - Jeju Province, South Korea; Up Helly Aa, Lerwick - Shetland Islands, Scotland; Quema del Diablo (Burning of the Devil) - Guatemala; and Sadeh - Iran. To read the details on these and Cheapflights.ca's complete Top 10 Fire Festivals around the World, visit www.cheapflights.ca/travel/top-10-fire-festivals-around-the-world.
About Cheapflights Media
Cheapflights Media is an international media network helping over 11 million visitors a month find top travel deals. Our Cheapflights brand was launched in 1996 and pioneered the online comparison of flight deals for users. Today, users compare a wide range of deals from hundreds of partners including online travel agents, consolidators and airlines to find the very best flight deals. With a mission to be the starting point for travel, Cheapflights works to deliver the industry's best airfare bargains, expert tips and inspiration. There are currently Cheapflights sites in the U.K., U.S., Canada, Germany, Australia & New Zealand, France, Italy and Spain. For more information, visit www.cheapflights.ca. Our newest brand, momondo, is a leading travel search engine for finding comprehensive worldwide pricing and availability on airfares. Winner of several awards, the site is ideal for users on specific travel schedules. For more information, visit www.momondo.com.
Contact Information:
Contact Information:
Dalia Blumenthal
Publicist
Tel: +1 416-926-1967
Mobile: +1 416-788-4573
E-mail:
Web: www.cheapflights.ca