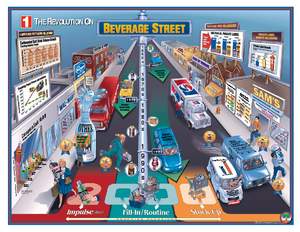 An example of a Strategic Learning Map Module. This example is designed to help employees across the organization understand the changing market using a small group dialogue discussion. At the end of the exercise, they have a comprehensive view of why the company strategy is changing.
PepsiCo shares its journey working with Root to get every employee in the organization engaged in its strategy to drive strategic change and become a total beverage company. 'Our success was going to depend entirely on our people.' 'People were creating a connection to the company that had never existed before.'
SYLVANIA, OH--(Marketwire - Oct 31, 2012) - With US unemployment rates still at a whopping 7.8 percent in September, it's hard to believe that people who do have a job would actually leave it! But the Bureau of Labor and Statistics reports that as of August, 2.1 million people had quit their jobs (up from 1.8 million at the end of the recession in June 2009).
"The fact that people would voluntarily quit of their own accord in a tough economic job market is almost unthinkable. You have to start to look at what would drive people to make that kind of change," said Jim Haudan, CEO at Root Inc.  "We know people leave jobs for all kinds of reasons -- real or imagined -- better opportunities, more money, or work/life balance. But some of the top reasons people quit are because of poor managers, they feel disengaged, and they don't believe their work makes an impact on the company. In short, people leave when they feel beat down in a dead-end position with a bad boss and there's nowhere to go (or grow)."
The fact is, however, that it costs 30-50 percent of the annual salary of an entry-level employee, 150 percent of a mid-level employee's salary, and up to 400 percent of a specialized employee's salary to replace them. So, when you do the math, it makes sense for companies to do the right thing by the people they already have -- the ones they've already invested in.
Companies need to understand the current state of the business -- where they are in the market, the characteristics of their culture, and how that impacts their workplace and their employees. Then they must clearly be able to articulate where they want the business to go in the future -- short-term and long-term -- how they are going to get there, where they need to invest, what skills they are going to need in the future. Then they have to develop a roadmap for change that their people can really sink their teeth into. Some key tools for engaging employees in understanding and creating change are:
Digital interactive tools like gaming and simulations, mobile and social tools, creative communications, and learning curriculums to teach employees in innovative ways that really speak to them
Video to engage the heads, hearts, and hands of employees
Strategic Learning Map® modules using icons, infographics, drawings, conceptual illustrations, and metaphors to tell the company's strategic story in a simplified, visual manner that's easy to understand
Hands-on manager development programs to develop new managers and enhance the skills of seasoned ones
Root Inc. has helped companies like ADP, Chiquita, and CUNA Mutual change the way they engage employees in executing their strategies. Root blends more than two decades of consulting expertise with creative and visual methodologies to help companies and their people learn to think and act differently to deliver outcomes like:
Employment numbers are top of mind for everyone right now with the imminent election. It's not the time for turnover. The cost is too high. Everyone is better off when companies acknowledge what they already have in their employees -- and invest in keeping them. There are so many ways to do it; most companies just don't know how. Learn more about how you can invest in doing what needs to be done to keep your employees happy, engaged, productive -- and staying!
About Root
Root is a strategy execution company that helps organizations engage their people as the catalyst and driver for change. Root does this by connecting people with complex strategies using creative and visual methods, transformative insights, and consulting know-how on strategy deployment and sustainment. With more than 20 years of capabilities developed from partnering with the world's largest businesses, Root has created a proven framework that consistently achieves clarity, ownership, and results. Based in Sylvania, Ohio, Root has been recognized as a Great Place to Work for eight consecutive years. Visit www.rootinc.com for more information or follow Root on Twitter: @therootinc.
Contact Information:
CONTACT:
Monica Rohleder

847-606-1973