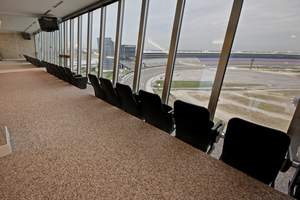 Two penthouse units at the Lonestar Tower, which overlook the Texas Motor Speedway, will sell at an absolute auction, with no minimums and no reserves, on December 6.
Take a video tour of the Lonestar Tower penthouse units
FT. WORTH, TX--(Marketwire - Oct 31, 2012) -  Two penthouse units in Lonestar Tower, overlooking the Texas Motor Speedway, will sell at auction on December 6. The two units, each with two bedrooms and two bathrooms, will sell at an absolute auction with no minimums and no reserves. J. P. King Auction Company will conduct the auction event.
With rooftop access through a spiral staircase in each unit, these two condos sit above Turn Two of the Texas Motor Speedway, a 1.5-mile track for NASCAR and IndyCar racing events. The rooftop is a shared area atop the 10-story building that provides panoramic views of the track itself, the grandstands and surrounding areas. Both units also feature floor-to-ceiling windows that also overlook the speedway from indoors.
The first of the two condominiums is a corner unit that will sell furnished and includes several memorabilia pieces. The second unit will sell unfurnished, sharing the same floor plan and modern features, such as spacious living rooms, granite countertops and entertaining bar.
"Both of these units in the Lonestar Tower would be a great purchase for any sports enthusiast that wants to participate in the excitement of race day. Their spacious living area, views and convenient location make it a home that's ideal for more than just race day. Since they're both selling absolute, it's an opportunity to buy a penthouse unit at a bargain," said Craig King, president and CEO of J. P. King Auction Company.
The auction will take place on Thursday, December 6 at the units, which are located at 3575 Lonestar Circle in Ft. Worth. Property tours will be available on November 16-18 and November 29 through auction day. For additional information, individuals may contact J. P. King at 800.558.5464 or visit the company's website at www.jpking.com.
About J. P. King: J. P. King Auction Company specializes in high-value properties and portfolios such as luxury homes, developments, condominiums and land and ranches. The company has marketed properties in all 50 states and six countries with recent sales in Colorado, Wyoming, Georgia, Florida and Washington.
Keep in Touch:
Twitter
Facebook
Craig King's blog
Contact Information:
Contact:
Caley King Newberry
Cell: 256.295.3629
Email: cnewberry@jpking.com