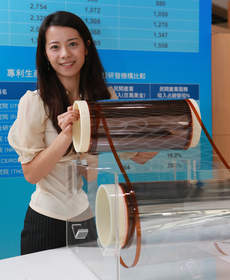 ITRI and Corning Incorporated (NYSE:GLW) have been working together since 2011 to develop the R2R technology for flexible glass.
TAIPEI, TAIWAN--(Marketwire - Oct 31, 2012) - ITRI announced its cutting edge roll-to-roll (R2R) process on 100µm flexible glass substrates today at FPD International, an industry trade show, occurring Oct. 31 - Nov. 2, 2012 in Yokohama, Japan. Drawing inspiration from the R2R process used to create newspapers, ITRI's manufacturing technique overcame previous R2R manufacturing facility and process integration difficulties. ITRI is the first in the world to successfully demonstrate a complete R2R process and ultra-thin glass touch module process developed for 100µm flexible glass substrates.
ITRI and Corning Incorporated (NYSE: GLW) have been working together since 2011 to develop the R2R technology for flexible glass. Using ITRI's development experience on R2R processing of plastic substrates, combined with Corning's expertise in glass handling, ITRI and Corning developed specially designed R2R machines that produced touch panel modules on Corning® Willow™ Glass, a flexible display-grade glass substrate. ITRI is seeking companies that are interested in accepting a transfer of this technology for their own Willow Glass processing, with the expectation that this processing technology could extend to applications, such as flexible touch panels, flat panel displays, solar panels and OLED lighting.
When compared to plastic substrates, Corning's Willow Glass provides a very flat, smooth, stable and optically clear surface with outstanding process stability. It does not stretch, scratch or degrade the way plastic does when subjected to the processes needed to make high-quality devices. ITRI's unique R2R technology is the first scalable device patterning process successfully developed for flexible glass. ITRI's stable transmission R2R technology produces precise alignment of 100µm environmentally friendly Willow Glass enabling touch patterning to be directly fabricated on the glass. Such a continuous R2R production replaces the traditional single-station sheet-to-sheet production, and it also eliminates the conventional grinding process from 400µm to 200µm thickness. Therefore, it is expected to reduce production cost.
ITRI's cutting edge R2R process technology using Willow Glass is capable of producing thinner and lighter designs that can be bent to a curve. This revolutionary combination of continuous processing and flexible glass will make low-cost processing of thinner and lighter touch modules, smart phones, tablet PCs, Notebooks, OLED lighting, solar cells and mobile touch-control devices a reality without sacrificing device performance and reliability.
Contact Information:
About ITRI please visit www.itri.org.tw

News Contact:
ITRI Office of Marketing and Communications
Project Manager
Shu-Ya Chan
03-5917118
0930-819785


Cheng-Ling Yeh
03-5918417
0970380411


About Corning please visit www.corning.com

Corning Media Relations Contacts:
Jim Terry
(607) 974-7343


Corning Investor Relations Contact:
Ann S. Nicholson
(607) 974-6716