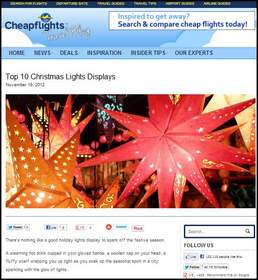 Blog post of Cheapflights.com's Top 10 Christmas Displays.The intricate details and technical lighting that go into these holiday displays and, of course, their sheer splendor make any of these cities a great place to get the whole family into the seasonal spirit.
BOSTON, MA--(Marketwire - Nov 19, 2012) - As Santa Claus gears up to make his entrance during the Thanksgiving Day Parade, cities worldwide are also preparing to welcome the holiday season. Around the globe, cities get into the festive spirit with the help of twinkling Christmas lights that add a special glow to this special season. To spread some of this holiday sparkle, the travel experts at Cheapflights.com, the online leader in finding and publishing travel deals, came up with their Top 10 Christmas Lights Displays that are worthy of a special trip.
Here are four cities in the Americas to make the list with awe-inspiring displays of Christmas lights that are sure to dazzle the whole family.
Toronto, Canada - In Toronto, the annual Cavalcade of Lights marks the official start of the holiday season with music, skating, dancing and a whole heap of Christmas lights! Now in its 46th year, the Cavalcade was created in 1967 to showcase Toronto's newly constructed City Hall and Nathan Phillips Square. The festivities usually fall on the final weekend of November when the Square and a giant Christmas tree are illuminated by more than 300,000 energy-efficient LED lights that shine from dusk until 11pm, November 17 to January 1.


Medellin, Colombia - Christmas in Medellin, Colombia, is a time of families coming together to celebrate and enjoy the simple pleasure of looking at amazing decorations. In December, the city's thoroughfares, roads and parks are covered in thousands of fairy lights, with the most impressive displays found in Avenue la Playa and the Medellin River. Every year thousands flock to the Medellin River to gaze at the million dollar displays, sample delicious food and enjoy street performances.


Baltimore, Maryland - For 11 months out of the year, 34th Street in Baltimore is like any other street in North America, but in the month of December something truly magical takes place. Now in its 62nd year, the "Christmas Street" light display sees thousands of visitors descend on this unassuming neighborhood to view some of the most fantastic, and quirky, lights in North America. Each house on the block is decorated in the owner's unique style and some homes include toy trains on rooftops and hubcap Christmas trees.


Disneyland, Los Angeles - The happiest place on earth gets even merrier over the holiday season as Disneyland is transformed into an extravagant winter wonderland right in the heart of California. Classic rides such as It's A Small World and the Haunted Mansion are given luminous festive makeovers, while Main Street is decked out in all the best Christmas trimmings. Heralded by trumpeting toy soldiers, prancing reindeer, joyful gingerbread men and skating snowflakes, the Main Street Christmas Fantasy Parade sees all of Disney's most popular characters dressed up in their holiday best.

Rounding out our list of cities with breathtaking Christmas lights displays are: Singapore; Paris, France; Kobe, Japan; Vilnius, Lithuania; Vienna, Austria; and Berlin, Germany. To read the sparkling details about these destinations and Cheapflights.com's complete list of Top 10 Christmas Lights Displays, visit http://news.cheapflights.com/top-10-christmas-lights-displays.
About momondo group
momondo group is an online travel media and technology company that is driven by the belief that an open world is a better world. The group now serves travel search and inspiration to over 13 million visitors a month -- plus 6 million travel newsletter subscribers -- via its Cheapflights (www.cheapflights.com) and momondo (www.momondo.com) brands.
Skygate began the sourcing of complex air-travel data in 1992, while Cheapflights pioneered the online comparison of flight deals for users in 1996 and momondo launched meta-search in the Nordic countries in 2006. 
The Group has offices in London, Copenhagen, Boston and Toronto, with a consumer base across 16 core international markets but users all over the world.
Contact Information:
Contact Information:
Dalia Blumenthal
Publicist
Mobile: +1 416-788-4573
E-mail:
Website: www.cheapflights.com