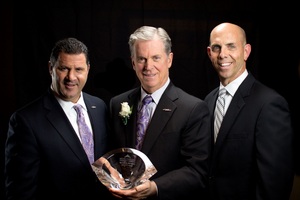 Caption: (l to r) Ron Rabena, Division President, AlliedBarton; Bill Whitmore, President & CEO, AlliedBarton; and Kevin Boyle, Business Department Chair at the Philadelphia law firm of Stradley Ronon, sponsor of the Visionary Award. Past Visionary Award winners include QVC, Campbell Soup, Urban Outfitters, Wawa, and The Vanguard Group, Inc.
CONSHOHOCKEN, PA--(Marketwire - Nov 19, 2012) - AlliedBarton Security Services, www.alliedbarton.com, the industry's premier provider of highly trained security personnel, is pleased to announce that the company was recognized with the Visionary Award by the Greater Philadelphia Chamber of Commerce. This award was created to establish a special tribute for significant leadership and to recognize outstanding companies that thrive and support the business backbone of the Greater Philadelphia economy.
The company's President and CEO, Bill Whitmore, accepted the Visionary Award at the 30th Annual Excellence Awards dinner held at the Hyatt Regency at Penn's Landing on November 15, 2012. 
"We are proud to have grown from a small, regional security company to the leading American owned physical security services company," said Whitmore. "This award recognizes our growth and the central role that Philadelphia plays in our company's evolution nationally." Today, AlliedBarton leads the industry on critical issues such as training standards, national background checks, military hiring and workplace violence prevention.
"The Greater Philadelphia Chamber of Commerce is honored to present AlliedBarton with the Visionary Award which is given annually to an outstanding company that is thriving, contributing to the Greater Philadelphia economy and moving our region forward," said Chamber President and CEO Rob Wonderling.
About the Greater Philadelphia Chamber of Commerce
The Greater Philadelphia Chamber of Commerce is the premier advocate of the region's business community, representing members in 11 counties across three states with one voice. The Greater Philadelphia Chamber of Commerce is dedicated to promoting regional economic growth, advancing business-friendly public policies, and servicing our members through outstanding programs, benefits and services. For more information, visit www.greaterphilachamber.com.
About AlliedBarton Security Services
AlliedBarton Security Services is the industry's premier provider of highly trained, responsive security personnel. Client-focused security officers and managers located across the country are supported by national resources developed from over 50 years of security experience. More than 55,000 employees and 120 offices provide security for several thousand clients in many industries, including approximately 200 Fortune 500 companies. As the most honored security officer services company, AlliedBarton leads the industry in award-winning programs. AlliedBarton has been recognized by Training magazine, ASTD, Corporate University Xchange, Leadership Excellence and the American Business Awards, among others. For more information call 1.866.825.5433 or visit www.AlliedBarton.com. 
Facebook: http://www.facebook.com/AlliedBartonSecurityServices
Twitter: http://twitter.com/alliedbarton
LinkedIn: http://www.linkedin.com/groups?about=&gid=2779942&trk=anet_ug_grp
YouTube: http://www.youtube.com/AlliedBartonSecurity 
Contact Information:
Contact:
Nancy Tamosaitis
Vorticom Public Relations
Phone: 212.532.2208
Email: