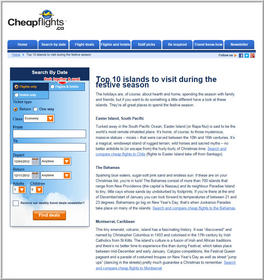 Screenshot of Cheapflights.ca's Top 10 Islands to Visit During the Festive Season. For those looking to really get away for the holidays, nothing beats escaping to one of these islands where they embrace the festive season with local flare.
TORONTO--(Marketwire - Nov 28, 2012) - For those looking to really get away for the holidays, nothing beats escaping to an island, especially one that embraces the season with local flare. The travel experts at Cheapflights.ca, the online leader in finding and publishing travel deals, suggest their Top 10 Islands to Visit During the Festive Season. Whether you are planning to spend the holidays with family, friends, a loved one or all of the above, experiencing the season at one of these islands will be one of the best gifts you could ever give them, and yourself.
Below are five islands to make our list where the chance of a white Christmas is highly unlikely (unless you count sand) yet the festive celebrations are second-to-none.
The Bahamas - Sparking blue waters, sugar-soft pink sand and endless sun. If these are on your Christmas list, you're in luck! The Bahamas consist of more than 700 islands that range from New Providence (the capital is Nassau) and its neighbour, Paradise Island, to tiny, little cays whose sands lay undisturbed by footprints. If you're there at the end of December/start of January you can look forward to temperatures of between 21 and 23 degrees. Bahamians go big on New Year's Day, that's when Junkanoo Parades take place on many of the islands.


Montserrat, Caribbean - This tiny emerald, volcanic, island has a fascinating history. It was "discovered" and named by Christopher Columbus in 1493 and colonised in the 17th century by Irish Catholics from St Kitts. The island's culture is a fusion of Irish and African traditions and there's no better time to experience this than during Festival, which takes place between mid-December and early January. Calypso competitions, the Festival Queen pageant and a parade of costumed troupes on New Year's Day as well as street "jump ups" (dancing in the streets) pretty much guarantee a Christmas to remember.


Trinidad and Tobago - These islands are some of the Caribbean's most diverse with African, Indian, British, Chinese, French, Spanish and Portuguese influences. At this time of year, the fusion of all these influences creates colourful and joyous celebrations. What we know as carolling is given a Caribbean twist -- Parang. Groups of parranderos sing traditional Spanish songs at festivals around the islands and go from door to door on Christmas Day. Fruit cake and an eggnog-type drink are seasonal treats and you can work it all off (or not!) on the islands' glorious beaches, which bake in average daily temperatures of 27 degrees.


St. George Island, Florida - The best island, close to continental North America, just might be St. George Island, off the Florida Gulf Coast. It's not nearly as crowded as the islands off the Florida peninsula, has amazing seafood and one of the best beaches in the world. Popular with families and nature lovers (it's a nesting ground for loggerhead sea turtles that lay their eggs between May and October), the festive season temperatures hover around the very comfortable 20-degree mark.


Salt Spring Island, British Columbia, Canada - If you want to experience a White Christmas, Salt Spring Island might not be the one for you. If it's a Green Christmas you'd like, then there's probably no better place off the coast of Canada. Salt Spring is one of the Gulf Islands in the Strait of Georgia. It lies between the British Columbia mainland and Vancouver Island, an island for those who like the good life. It's a noted destination for art lovers and food lovers, outdoor adventurers and those who like to be pampered -- it even has its own currency! The island goes all out for the season; Santa arrives by ship and float plane, there are craft fairs and islanders even create a special cocktail for Christmas called the "Glowtini".


Looking for a different type of island experience? Rounding out our list are islands found across the seas that are worthy of a special trip to celebrate the festive season. These include: Easter Island, South Pacific; Lindisfarne, Northumbria, England; The Åland islands, between Finland and Sweden; Ischia, Italy and Fiji, South Pacific. To read more about these islands and Cheapflights.ca's complete Top 10 Islands to Visit During the Festive Season visit www.cheapflights.ca/travel/top-10-islands-to-visit-during-the-festive-season.
About momondo group
momondo group is an online travel media and technology company that is driven by the belief that an open world is a better world. The group now serves travel search and inspiration to over 13 million visitors a month -- plus 6 million travel newsletter subscribers -- via its Cheapflights (www.cheapflights.ca) and momondo (www.momondo.com) brands.
Skygate began the sourcing of complex air-travel data in 1992, while Cheapflights pioneered the online comparison of flight deals for users in 1996 and momondo launched meta-search in the Nordic countries in 2006. 
The Group has offices in London, Copenhagen, Boston and Toronto, with a consumer base across 16 core international markets but users all over the world.
Contact Information:
Contact Information:
Dalia Blumenthal
Publicist
Mobile: +1 416-788-4573
E-mail:
Website: www.cheapflights.ca