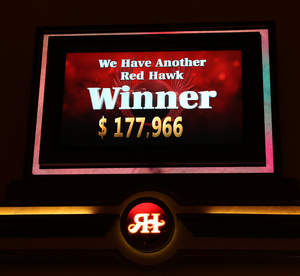 Quang, from Sacramento, Calif., won a $177,966 progressive jackpot at Red Hawk Casino.
PLACERVILLE, CA--(Marketwire - Nov 27, 2012) - Red Hawk Casino, home to some of the luckiest and loosest slots, is paying out more jackpots than ever. Quang, from Sacramento, Calif., is the latest Rewards Club member to win big with a $177,966 progressive jackpot today.
Quang is a regular visitor to Red Hawk and says, "I always come to Red Hawk because it's closer, and easier to get to." He was playing a Double Diamond slot for just a short time this morning when the progressive symbols lined up for the top payout of $177,966. Quang was in shock to see how much he won. He says he'll use his winnings to pay off his house, buy a new Toyota Tundra. He also said it has been 10 years since he was able to take a trip to China, and plans to use a portion of his winnings to make a visit soon.
Red Hawk Rewards Club
Not a member of the Red Hawk Rewards Club? It's free and easy to sign-up. To start earning great prizes and exclusive members-only offers, sign up at the Red Hawk Rewards Club.
For quick and easy access to Red Hawk Casino events, entertainment and dining, download the Red Hawk Casino mobile app at www.redhawkcasino.com/app. Call 888-573-3495 or visit www.redhawkcasino.com for information.
Contact Information:
Media Contacts:
Emily Cady
Publicist
Office: (530) 672-5078
Mobile: (530) 417-0872
Email: ecady@redhawkcasino.com

Kim Stoll
Dir. of Advertising & Publicity
Office: (530) 672-4179
Mobile: (775) 232-4976
Email: kstoll@redhawkcasino.com