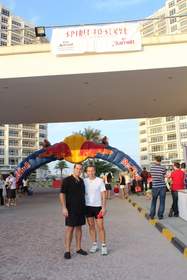 As part of the Marriott Core Values; Spirit to Serve Our Communities, Sam Van Campenhout, General Manager and Marwan Haddad, Director of Sales of Marriott Executive Apartments and Residence Inn by Marriott Manama, Juffair participated in the Amwaj Triathlon held on7th December 2012
MANAMA, BAHRAIN--(Marketwire - Dec 23, 2012) - Marriott Executive Apartments, Manama Bahrain, a Bahrain city centre hotel, participated in the Amwaj Triathlon held on 7th December 2012 organized under the patronage of H.H. Sh. Nasser Bin Hamad Al Khalifa, President of the Supreme Court for Youth and Sports.
The event is part of Marriott International corporate core values "Spirit to Serve Our Communities". The 2012 Amwaj Triathlon, one of the best things to do in Bahrain, supports The Bahrain Special Olympics, a Non-Government Funded Organization. The event is an opportunity for family & friends to participate in a social atmosphere outside of the workplace, while promoting a healthy and active lifestyle.
Sam Van Campenhout and Marwan Haddad of the extended stay hotel in Bahrain participated as a team in the Event "Try a Tri" that consisted of 150m Swimming, 10 km Cycling, and 3 km Running. They received 3rd place in the corporate competition.
General Manager Sam Van Campenhout said that it was a great opportunity for Marriott to participate in this charity event and support the local community. It was a wonderful experience to join hands with the local organization to support the Bahrain Special Olympics. Marriott will be supporting next year's event as well.
Contact Information:
Contact:
Marwan Haddad
Director of Sales
Marriott Executive Apartments Manama
P.O. Box 76151, Al Fateh - Manama
Kingdom of Bahrain
Tel: +973 17 363 999
Fax: +973 17 363 888
Mob: +973 36242210

www.meabahrain.com