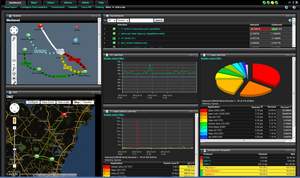 CiscoLive London attendees will have an opportunity to view real-time data flows on Plixer's Scrutinzier
Cisco Medianet: Application Performance Monitoring with NetFlow
LONDON--(Marketwire - Jan 28, 2013) - Cisco Live (Stand E79) -- Plixer International, Inc., a leading provider of NetFlow-based network traffic reporting, today announced it has been selected to demonstrate its offerings by routing CiscoLive's IT communications through Scrutinizer. Show attendees visiting the company's booth will witness real-time data flows and experience how easy it is to pin point latency and jitter, spotlight bandwidth-consuming mobile devices and identify traffic anonymities associated with data security issues.
"Many IT professionals have never really experienced viewing their entire network traffic -- on one screen, in real-time," said Michael Patterson, Plixer's President and CEO. "Realizing this, we are working with Cisco to provide a unique demonstration that displays the entire tradeshow's IT communication traffic through Scrutinizer's lens. In this manner, attendees can fully test drive the value of analyzing NetFlow traffic on the spot."
Plixer's strategic partnership with Cisco has enabled the company to be the first and only vendor to support many of the advanced and unique Cisco exports. This, combined with Plixer's 100 percent focus on flow technologies, resulted in thousands of satisfied customers seeking a best-of-breed, scalable flow collection, reporting and analysis solution. For more information please view Plixer/Cisco webinars.
Download a free trial of Plixer's Scrutinizer for NetFlow traffic analysis or schedule a live demo by calling: (207) 324-8805 or via email at sales@plixer.com. For more NetFlow insight, follow Plixer International on their Blog, Twitter, Facebook or join NetFlow Developments Group on LinkedIn. Learn about these new features by taking one of their Advanced NetFlow Training classes being offered around the country.
About Plixer International, Inc.
Plixer International, Inc. develops and markets network traffic monitoring and analysis tools to the global market. All of the tools are built from the ground up with valuable feature sets and ease of use in mind. Plixer tools have been used to analyze and troubleshoot irregular traffic patterns by IT professionals with some of the largest networks in the world, such as CNN, The Coca-Cola Company, Lockheed Martin, IBM, Regal Cinemas, Raytheon, and Eddie Bauer.
For product and sales information, contact Plixer International, Inc. at 207.324.8805, or visit http://www.plixer.com.
Contact Information:
Jackie Abramian
BridgeViewMarketing (for Plixer International, Inc.)
207.439.0963
Jackie@bridgeviewmarketing.com
Twitter: @plixerweb