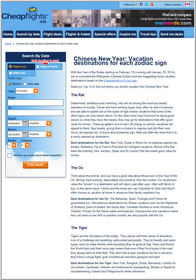 Screenshot of Cheapflights.ca's Vacation Destinations for Each Zodiac Sign in honour of the Chinese New Year. February 10th marks the beginning of the Year of the Snake. Discover where you should travel this year based on characteristics of your Chinese zodiac sign.
TORONTO--(Marketwire - Jan 29, 2013) - February 10th marks the beginning of the Chinese New Year. Running until January 30, 2014, this will be the Year of the Snake. The Chinese calendar follows a twelve-year lunar cycle, with each symbolized by an animal. The year you are born determines your animal sign and, as a result, your core personality and destiny. The travel experts at Cheapflights.ca, the online leader in finding and publishing travel deals, delved into this world of astrology by consulting with the Shēngxiào (Chinese Zodiac) to come up with the Top Vacation Destinations for Each Zodiac Sign.
To get you started, here are the first six signs in the Chinese zodiac and the best destinations to travel to based on the characteristics of each sign:
The Rat - Determined, ambitious and charming, rats can be among the most successful members of society. Clever and hard-working types, they often do well in business and are able to splash out on the types of high-octane vacations that some of the other signs can only dream about. On the other hand, they're known for being good savers so while they have the means, they may go for destinations that offer good value for money. These go-getters love to burn off energy so activity vacations will appeal to them. Spa breaks, giving them a chance to regroup and plot their next move, are popular too. A brave and pioneering sign, Rats are often the ones first in to a newly-opened-up destination.

Best destinations for the Rat: New York, Dubai or Rome for no-expense-spared city breaks. Barbados, Fiji or French Polynesia for indulgent vacations. Burma if the Rat feels like charting "new" territory. Spain and Sri Lanka if the Rat wants good value for money.



The Ox - Think about the animal, and you have a good idea about those born in the Year of the Ox. Strong, hard-working, dependable and practical, they like routine. Ox vacationers value the "known" in a destination and will return year after year, often with family in tow, to the same resort. Family and the home are very important to Oxen and they'll often choose to vacation at home or wherever their family members live.

Best destinations for the Ox: The Bahamas, Spain, Portugal and France for guaranteed sun. Mountainous destinations for fitness vacations such as the Highlands of Scotland, parts of Ireland, the Swiss Alps, Canadian Rockies or even Himalayas. Orlando, Florida, for the theme parks and beaches. Voluntourism and vacations where they can learn a new skill or practise a hobby are also popular with the Ox.



The Tiger - Tigers are the risk-takers of the zodiac. They dazzle with their sense of adventure, love of a challenge and sparkling, extroverted personality. They're friendly and warm types, quick to make friends while travelling (they're great at Gap Years and Round the World trips) and their lucky sign means that even if they hit a bump in the road, they always land on their feet. They don't like to plan vacations too far in advance; they'll find a cheap flight, grab a toothbrush and their passport and dash.

Best destinations for the Tiger: New York, Bangkok, Dubai, Barcelona, London for city breaks. Cambodia, Vietnam and Indonesia for backpacking. Bhutan or Nepal for mountaineering. Iceland and Patagonia for sheer adventure.



The Rabbit - Bright-eyed and bushy-tailed, the Rabbit is a youthful sign. Rabbits have bags of energy and, the Chinese say, enjoy lucky lives. Their attractiveness and good nature mean they get along with lots of different types of people. Often shy and sensitive you'll find many creative types who are Rabbits. Solitary trips where they can melt into the background -- browsing the flea markets of Morocco or Istanbul -- appeal to their love of different cultures.

Best destinations for the Rabbit: Cities with lots of history and culture such as Rome, London, Boston, Charleston (South Carolina), Paris, Prague, Athens for short breaks. Vietnam, Thailand, Nepal and Laos for longer, backpacking trips. Haridwar and Rishikesh in India to get in touch with their spiritual side.



The Dragon - The Dragon is the only mythological sign in the Chinese Zodiac. And those born under this sign are as powerful and charismatic as you could imagine. Dragons are a law unto themselves. They can be forceful but they're very lovable. You'll often find that the richest and most successful men and women are Dragons (such as Bruce Lee, Liam Neeson, Pele, Salvador Dali and Martin Luther King).

Best destinations for the Dragon: A safari in Kenya or Namibia, mountain climbing in Nepal, or scaling Mount Everest on the China/Nepal border. Staying at an Ice Hotel in Jukkasjärvi, Swedish Lapland or Quebec, Canada. For city breaks, Venice for the Carnival, New Orleans for Mardi Gras or Up Helly Aa in Shetland, Scotland, for the fire festivals.



The Snake - Snakes are wise and mysterious types. Detached and shrewd, they like to hang back until a destination is established. And when they do vacation, they prefer sophisticated company and elegant surroundings. Lazing in the hot sun is a favourite pastime too so ritzy, beachy destinations will be in high demand.

Best destinations for the Snake: Las Vegas for the opulent hotels and high-class entertainment, a Grand Tour of Europe's most refined cities such as Vienna, Prague or Florence. Seoul for Gangnam-Style glamour. St. Vincent or Palm Beach, Florida, for a luxurious resort holiday.
The next six signs include: Horse, Sheep, Monkey, Rooster, Dog and Pig. To find out where you should travel this Chinese New Year based on your sign, visit Cheapflights.ca's Top Vacation Destinations for Each Zodiac Sign at www.cheapflights.ca/travel/chinese-new-year-vacation-destinations-for-each-zodiac-sign.
About momondo Group
momondo Group is an online travel media and technology company that is driven by the belief that an open world is a better world. The group now serves travel search and inspiration to over 13 million visitors a month -- plus 6 million travel newsletter subscribers -- via its Cheapflights (www.cheapflights.ca) and momondo (www.momondo.com) brands.
Skygate began the sourcing of complex air-travel data in 1992, while Cheapflights pioneered the online comparison of flight deals for users in 1996 and momondo launched meta-search in the Nordic countries in 2006. 
The Group has offices in London, Copenhagen, Boston and Toronto, with a consumer base across 16 core international markets but users all over the world.
Follow us on Twitter: twitter.com/cheapflights
Follow us on Facebook: www.facebook.com/cheapflights
Contact Information:
Contact Information:
Dalia Blumenthal
Publicist
Mobile: +1 416-788-4573
E-mail:
Website: www.cheapflights.ca