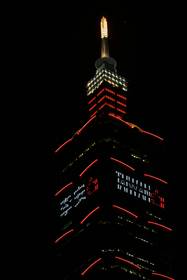 To celebrate Ang Lee's recent achievement in 2013 Academy's Awards, his name was shown on TAIPEI 101 -- the iconic landmark of his hometown Taiwan, which's also the first time for the tower to present a man.
TAIPEI, TAIWAN--(Marketwire - Feb 26, 2013) - TAIPEI 101 joined the celebration for filmmaker Ang Lee's taking home the best director of the academy award with his "Life of Pi" with its renowned LED messages and graphic designs at 8:30pm, Monday night (Feb. 25), Taiwan time.
The skyscraper's LED screen began to solute to the Taiwanese-born filmmaker by showing "bravo Ang Lee" and "bravo Taiwan" (two thumbs up after the Chinese characters 'Ang Lee' and 'Taiwan'). 
While Lee showed his gratitude toward Taichung City and Taiwanese people for their help for the movie when he received the award, thousands and thousands of Taiwanese Internet surfers also began to share the moment of Lee's being highlighted, affirmed and recognized again by posting all kinds of graphic designs or messages of congratulations. The tower decided to complete the process, which usually takes a week, of the LED messages and graphic designs as soon as possible and make it happen at 8:30pm, to celebrate the moment when Lee made the nation highlighted.
Official photos of the LED messages when they were launched were uploaded and posted on TAIPEI 101's website shortly, while official statistics showed that more than 100 Internet surfers have visited the website within two hours on Monday night. Meanwhile, similar pictures can be googled, now that many visitors also shared their pictures of the same subject theme on the Internet.
Life of Pi landed a leading four Academy Awards, including Lee's best direction, best cinematography, best visual effects, and best original score. It was also Lee's second best director award after Brokeback Mountain in 2005.
About TAIPEI 101
TAIPEI 101 is a landmark located in Xing-Yi District which held the record of world's tallest building between 2004 and 2010. The skyscraper is composed of two parts: a 6-storey shopping mall and a 101-storey main building. It's definitely the best way for tourists to experience Taipei city in different aspects by taking the world fastest elevators to the Observatory at 89th floor, or reserve a table in an observatory restaurant, enjoy your dinner with cloud outside. After the wonderful meal, you may walk down to TAIPEI 101 Mall, the first international top brand shopping mall in Taiwan, enjoy shopping at designer flagship stores. Are you ready to meet TAIPEI 101? Plan your journey right now!
Contact Information:
Media Contact:
Sidney Cheng