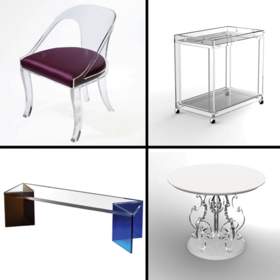 Plexi-Craft's spectacular debut at the 2013 Architectural Digest Home Design Show featuring its newest creations: The Klismos Chair, Bar Cart by Timothy Whealon, the Breckenridge Taylor V-Console, and 160 Tea Table by Benjamin Noriega-Ortiz. For details visit: www.plexi-craft.com.
NEW YORK, NY--(Marketwire - Mar 18, 2013) - Plexi-Craft, the nation's #1 manufacturer of custom acrylic furniture, fixtures and accessories, will make its first ever appearance at the 2013 Architectural Digest Show in booth number 103. The show will take place March 21-24, 2013 at New York City's Pier 94.
Reinforcing its reputation as the pioneers in thick acrylic construction, Plexi-Craft will unveil a variety of new signature and designer-commissioned pieces, as well as classic items in brilliant colors. Show attendees will get a firsthand look at the Klismos Chair, a brand new Signature Plexi-Craft item being launched at this year's show. New designer-commissioned pieces such as the highly acclaimed 160 Tea Table designed by Benjamin Noriega-Ortiz, and Bar Cart  by Timothy Whealon will be displayed at the show as well. The bar cart will be shown in crystal clear with optional colored inserts.
Unquestionably daring and dramatic, Plexi-Craft's jewel tone line gives consumers the option to own unique acrylic items in Emerald Green, Ruby Red, or Sapphire Blue. Adding to the highly acclaimed colored acrylic line recently launched by Plexi-Craft, the colorful Breckenridge Taylor V-Console will be officially launched at this year's show.
"From the runway to the home, jewel colors dazzle the imagination of interior designers and design lovers alike," said Plexi-Craft CEO Allen Frechter. "Keeping on trend, consumers can add a splash of color to the home without it feeling overdone. These must-have accent pieces in new acrylic color options include Ruby Red, Sapphire Blue and the Pantone Color of the Year- Emerald Green."
To view further information and images on these new products, go to: http://bit.ly/Plexi-CraftImages. To view high-resolution images of Plexi-Craft's line of colored acrylic products, please visit: http://bit.ly/145MZUO
For the latest on high-end acrylic furniture, visit www.plexi-craft.com, follow Plexi-Craft on Facebook and Pinterest and join the LinkedIn Acrylic Design Community Group.
Contact Information:
MEDIA CONTACT:
Christina Cozzi
For Emerging Media
646-692-9810
plexi-craft@emergingmediapr.com