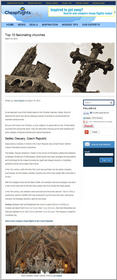 Blog post of Cheapflights.com's Top 10 Fascinating Churches in honor of today's papal inauguration and upcoming Easter holiday. Showcasing religious sites from around the world that are original and quirky in their designs, have fascinating histories and are well worth a visit at any time of year.
BOSTON, MA--(Marketwire - Mar 19, 2013) - Today's papal inauguration ceremony of Pope Francis at St. Peter's Square is expected to draw hundreds of thousands of people. This historical event comes less than a week before Palm Sunday (March 24) and the busy Christian Holy Week. As much of the world turns its attention to Rome and St. Peter's Basilica for today's ceremony and the coming celebrations of the Easter season, the travel experts at Cheapflights.com, the online leader in finding and publishing travel deals, have sought out some different houses of worship. The result, our list of Top 10 Fascinating Churches, highlights religious sites from around the world that are original and quirky in their designs, have fascinating histories and are well worth a visit at any time of year.
Below are five of the impressive and intriguing churches to make our list:
Chapel of the Holy Cross, Arizona, United States - Built into the mesas of Sedona, Ariz., the Roman Catholic Chapel of the Holy Cross is an impressive sight rising from the red, desert rock. Inspired and commissioned by sculptor Marguerite Brunswig Staude, the chapel is built on Coconino National Forest land and was completed in 1956. The Chapel is one of the main tourist attractions in Sedona and in 2007 locals voted it one of the Seven Man-Made Wonders of Arizona.


Saint Michel d'Aiguilhe, France - This fairytale church in France has it all: picture-perfect views, an awe-inspiring location, ancient history, and even a saint's mother. The rock where the Saint-Michel d'Aiguilhe chapel is built has been a sacred place for thousands of years, first as a temple to the Roman god Mercury. The chapel in Aiguilhe, near Le Puy-en-Velay, was built in 962 on a 279-foot-high volcanic formation to celebrate the pilgrimage of Saint James, and it is said the mother of Joan of Arc prayed at the site in 1429. The chapel is reached by climbing 268 steps carved into the rock, and at the top visitors are greeted by sweeping views of Le Puy, the cathedral and the surrounding countryside.


Thorncrown Chapel Eureka Springs, Arkansas, United States - Within a beautiful, peaceful wood, the Thorncrown Chapel in Eureka Springs, Ark., really welcomes the outside in. It's hard not to feel at one with the world in this pristine location. Designed by E. Fay Jones, this inspiring glass creation has attracted more than six million visitors since it opened in 1980. Constructed mostly of wood and other local materials, the building was selected for the 2006 Twenty-five Year Award by the American Institute of Architects.


Hallgrímskirkja, Iceland - At 244 feet, Hallgrímskirkja in Reykjavík is the largest church in Iceland and the sixth tallest structure in the country. Completed in 1986, it took 38 years to build and was designed to resemble the basalt lava flows of Iceland's landscape. A popular feature of Reykjavik's cityscape, the church's tower is also used as an observation point for views of the city and surrounding mountains. The Lutheran church also commemorates important parts of Iceland's history. It is named after the Icelandic poet and clergyman Hallgrímur Pétursson and the statue in the front of 10th century explorer is Leif Eriksson, thought to be the first European to set foot in America.


Salt Cathedral of Zipaquirá, Colombia - The Salt Cathedral of Zipaquirá is a Roman Catholic church built 656 feet below ground within the tunnels of a salt mine in a Halite mountain near the town of Zipaquirá, Colombia. The temple is divided into three sections representing the birth, life and death of Jesus with all the icons, ornaments and architectural details hand carved in the rock salt walls. In the 1930s, miners working in the area carved a sanctuary into the rock as a place for their daily prayers. In 1950, construction on a much grander scale took place, then, in 1954 the Old Salt Church was opened and dedicated to Our Lady of Rosary, the patron saint of miners. Forty years later, the New Cathedral was opened 656 feet below the first containing 14 small chapels, a large dome, three naves and four large cylindrical columns. Today, the church is a popular tourist destination and place of pilgrimage, receiving as many as 3,000 visitors every Sunday. The Cathedral has been called one of the most notable achievements of Colombian architecture and is part of a larger complex including "Parque de la Sal" (Salt Park), and a museum of mining and geology.
Rounding out the list of eclectic churches are: Sedlec Ossuary, Czech Republic; Temppeliaukio Church, Finland; Gellért Hill Cave, Hungary; Church of Saint George, Rock-Hewn Churches, Ethiopia; and Borgund Stave Church, Norway. To read Cheapflights.com's complete list of Top 10 Fascinating Churches, visit http://news.cheapflights.com/top-10-fascinating-churches.
About momondo Group
momondo Group is an online travel media and technology company that is driven by the belief that an open world is a better world. The group now serves travel search and inspiration to over 13 million visitors a month -- plus 6 million travel newsletter subscribers -- via its Cheapflights (www.cheapflights.com) and momondo (www.momondo.com) brands.
Skygate began the sourcing of complex air-travel data in 1992, while Cheapflights pioneered the online comparison of flight deals for users in 1996 and momondo launched meta-search in the Nordic countries in 2006. 
The Group has offices in London, Copenhagen, Boston and Toronto, with a consumer base across 16 core international markets but users all over the world.
Follow us on Twitter: twitter.com/cheapflights
Follow us on Facebook: www.facebook.com/cheapflights
Contact Information:
Contact Information:
Dalia Blumenthal
Publicist
Mobile: +1 416-788-4573
E-mail:
Website: www.cheapflights.com