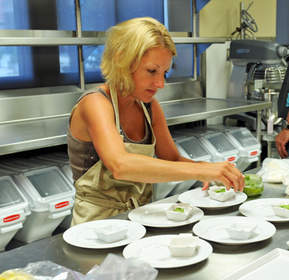 Last year's Hottest Kitchen Entrepreneur Challenge winner Bree Schumacher preps for judging event. This year's contest is open to adults and teens with a culinary dream.
MILWAUKEE, WI--(Marketwired - Apr 2, 2013) - Adult and teen cooks are invited to enter the Hottest Kitchen Entrepreneur Challenge, a regional contest to find the next great food entrepreneur. The Challenge is presented by Milwaukee Area Technical College (MATC) and by Reliable Water Services, a statewide provider of commercial water heaters, boilers and water softeners.
In addition to the adult category, this year Wisconsin teens ages 14-18 are invited to enter for a chance to kick-start their culinary dream career. Beginning April 2, adult and teen aspiring chefs and home cooks throughout Wisconsin can enter at www.hotwater247.com by submitting a short application and a photo of their recipe or product concept. The site has contest rules and details.
"Whether you are just starting on your cooking journey or have been in the kitchen for years, this challenge offers a real boost for someone with an amazing food business idea," said, Chef Jack Kaestner, MATC culinary instructor.
The adult grand prize winner will receive:
$2,500 in seed money from Reliable to start their business
Comprehensive entrepreneurial consultation package from MATC
Private meetings with food industry executives serving on FaB Milwaukee's advisory council
Professional cookware from Boelter SuperStore.
The teen grand prize winner will receive $1,000 scholarship from MATC and $500 in seed money from Reliable. Finalists will be selected in mid-June to participate in a final judging event on July 31 at Cuisine, the student-operated restaurant for MATC's culinary arts program.
Judges for the contest include:
Jan Kelly, owner and chef, Meritage restaurant, Milwaukee
Peter Gottsacker, president of Wixon Inc., a manufacturer of seasonings, flavors and technologies for the food, beverage and meat industry.
Angela West, co-founder/publisher, Alcoholmanac Magazine, Milwaukee
Betsy Gilmore, general manager, Bel Air Cantina/Wauwatosa
Jack Kaestner, chef instructor for Milwaukee Area Technical College
Lynn Sbonik, co-owner of Beans & Barley Deli, Market & Full Service Café
Eric Olesen, co-owner and president, O&H Danish Bakery of Racine
"Last year's winner is already on area market shelves so we know this process can really make a difference for a new entrepreneur who has an original food business idea," said Lynne Robinson, President of Reliable Water Services. 
For more information and to enter, visit Reliable Water Services at www.hotwater247.com.
Contact Information:
For More information, Contact:
Christel Henke
414-332-2933