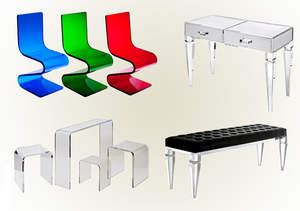 Plexi-Craft, America's #1 Acrylic Furniture Manufacturer, Launches New Dealer & Designer Program at its High Point Market Debut
HIGH POINT, NC--(Marketwired - Apr 15, 2013) -   HIGH POINT MARKET -- Plexi-Craft, the nation's largest and most acclaimed acrylic furniture, fixtures and accessories brand, will make its first ever appearance at High Point Market, the largest furnishings industry trade show in the world. Visitors to the Plexi-Craft exhibit, Showplace Building, Showroom 3420, will be the first to access its new dealer program, designed to enable luxury boutique retailers around the country to offer Plexi-Craft products to their customers. The show takes place in the furniture capital of the world, High Point, North Carolina from April 20-25, 2013.
For over 50 years, Plexi-Craft has been designing and fabricating custom acrylic furniture, fixtures and accessories to serve residential, commercial and retail customers. At its High Point Market debut, show attendees will get a firsthand look at signature and best-selling pieces such as the King George Line, the Z Chair, and Waterfall Tables, among others. Brand new and highly acclaimed jewel toned colored acrylic products will also be featured at the show.
"High Point is the center of the furniture universe, so we couldn't be more thrilled to launch our Dealer & Designer program here and show off our incredible new colored pieces," said Plexi-Craft CEO Allen Frechter. "We're building a network of boutique and luxury furniture dealers that can now access the finest quality acrylic furniture in the world, while giving interior designers and the trade an industry standard program to suit their needs as well."
For further information and the latest on high-end acrylic furniture, visit www.plexi-craft.com. To join the online discussion, follow Plexi-Craft on Facebook, Twitter and Pinterest. To join the High Point Market's ongoing Twitter discussion follow the official Twitter channel, @hpmarketnews and use the official Twitter hashtag #HPmkt.
Members of the media seeking further information or images of Plexi-Craft products, or interested in learning more about this exciting new industry announcement, please contact Christina Cozzi at 646-692-9810 or via email at plexicraft@emergingmediapr.com.
Contact Information:
MEDIA CONTACT:
Christina Cozzi
For Emerging Media
646-692-9810
plexicraft@emergingmediapr.com