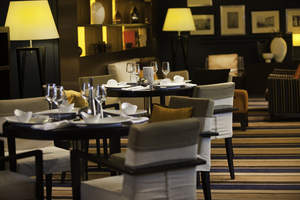 Every Tuesday at the Renaissance Moscow Olympic Hotel, a professional Russian language tutor teaches guests the most important and popular Russian phrases and shares stories about great Russian traditions and customs.
MOSCOW--(Marketwired - May 14, 2013) - Planning a vacation or business trip to Moscow? If you're one of those extra-curious people for whom simple sight-seeing isn't enough and you feel the dire need to truly explore and understand the Russian culture -- then Renaissance Moscow Olympic Hotel is the perfect place for you!
Ever dream of reading Dostoevsky or Tolstoy in Russian? It's possible. Aside from providing a free transfer service to Moscow's main attractions, the hotel offers a unique opportunity to learn Russian and become closer to the Russian culture.
Every Tuesday at 6:30pm in the 7 Sisters Café, a professional Russian language tutor awaits the hotel guests. The instructor not only teaches the most important and popular Russian phrases, but also shares stories about great Russian traditions and customs. The teacher will find a special approach to every single student, regardless of his level of knowledge of the language.
The lesson is entirely free and lasts one hour. However, at times, guests are so engaged in the discussions and questions that class continues on even further. Guests have become so accustomed to this unique characteristic of the hotel, that these lessons have already become a kind tradition that travelers anticipate during their every visit to this downtown Moscow hotel.
June 6th is International Russian Language Day, a date that was chosen specifically to commemorate the birthday of the famous Russian writer Alexander Pushkin. On this day, Renaissance Moscow Olympic Hotel will host a special lesson with a traditional Russian Samovar tea ceremony, complimented by delicious customary sweets.
Perhaps you are participating or organizing an event in one of the hotel's many meeting venues or have a business meeting in one of the various restaurants -- surprise your colleagues and partners with interesting Russian phrases or stories about the culture. This will certainly lighten up any mood and help steer the meeting in a positive manner from the get-go.
ABOUT RENAISSANCE
Renaissance Hotels represents a diverse collection of more than 150 hotels in 35 countries worldwide. Each property is unique, offering passionate travelers a one-of-kind experience and memories they will be sure to take with them long after they depart. Within every hotel, guests are greeted by an exceptional array of amenities and an inspiring world of local discoveries. For travelers looking to experience something new, innovative and locally driven programs including the industry leading entertainment platform RLife LIVE as well R Navigator, ensure that every trip is transformed into an eye-opening, unforgettable journey. Renaissance Hotels. Live Life To Discover. To discover more visit www.renhotels.com.
Contact Information:
Contact:
Renaissance Moscow Olympic Hotel
Olympski Prospect, 18/1
Moscow, 129110 Russian Federation
7-495-931 9000
http://www.marriott.com/hotels/travel/mowrn-renaissance-moscow-olympic-hotel/