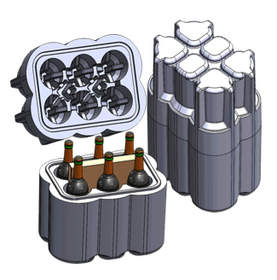 WineLoc's reconfigured Summer Wine Shipper offers improved performance and additional options, including an award-winning take-back recycling program.
DENVER, CO--(Marketwired - May 14, 2013) - ACH Foam Technologies, maker of WineLoc® thermal summer wine shippers, has reconfigured their design to offer added packaging options and increased protection of bottles during transit.
ACH developed the WineLoc® summer wine shipper (http://www.achfoam.com/Packaging_Products-WineLoc.aspx) package system to provide wineries and distributors a constant stable temperature for approximately 72 hours -- allowing wines to be shipped in the hot summer months. Tested to meet ISTA-7E temperature standards, the 2-, 6-, and 12-pack EPS foam units are contained within a corrugated cardboard outer carton and utilize specially designed pockets that hold frozen gel refrigerants and allow internal airflow. These refrigerants are designed specifically for the maximum amount of wine possible in the package, keeping the wine at or below 80°F for up to 72 hours.
The manufacturer, ACH Foam Technologies, offers a take-back recycling program to wineries, which is modeled after an award-winning recycling program developed by ACH and long-time customer Omaha Steaks.
ACH Foam and Omaha Steaks received an award this spring for innovative recycling practices at the annual EPS Industry Alliance Expo. The award was given to ACH and Omaha Steaks for their cooperative take-back recycling program, "It's Cooler to Reuse and Recycle." When making deliveries of its thermal EPS containers, ACH Foam Technologies picks up the returned coolers and brings them back to its plant for recycling.
"We would like to extend this award-winning take-back program to the wine industry with our WineLoc summer wine shippers," said ACH's Frank Kiesecker. "WineLoc is ideal for protecting wines from the summer heat, as well as breakage, during transit. Now, environmentally conscious California wineries can participate in an award-winning recycling program that's proven to be successful."
To order and find detailed information, visit http://www.achfoam.com/Packaging_Products-WineLoc.aspx or call 800-444-9290.