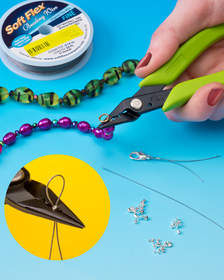 Xuron's new 4 in 1 bead crimping tool crimps and folds three popular sizes of crimp tubes and is also a chain nose plier. It was especially designed for beading.
SACO, ME--(Marketwired - May 14, 2013) - Xuron Corp. is introducing a new bead crimping tool, especially designed for beading and jewelry making that crimps and folds three popular sizes of crimp tubes and is also a chain nose plier.
The Xuron® 4 in 1 Crimper features three folding stations precisely milled to accept 1 mm, 2 mm, and 3 mm tubes, along with a crimping station, and is also a chain nose plier for traditional squeezing and bending operations. Especially designed for beading, jewelry making, and repair, this versatile tool is comfortable to grip and eliminates the need for multiple tools.
Made from steel with a non-glare finish, the Xuron® 4 in 1 Bead Crimper has soft Xuro-Rubber™ handles and a built-in return spring. Easy to use, just place the crimp in the crimping station and squeeze firmly, turn the crimp on its side and place it in the appropriate size folding station, and then use the chain nose tip of the plier for additional shaping or bending.
The Xuron® 4 in 1 Crimper sells for $21.95 (sugg. retail) and is made in the U.S.A. Literature is available at www.xuron.com or by request.
About Xuron Corp.
Xuron Corp. is one of the world's leading manufacturers of ergonomic hand tools including scissors and pliers and forming tools for the electronics, aerospace, plastic molding, hobbies, craft, floral and fishing industries. The company holds numerous domestic and international patents, including an inventor's patent for the original Micro-Shear® flush cutter and its unique cutting action which creates smooth, clean cuts without compression. 
Xuron tools are manufactured in Saco, Maine, where quality, an outstanding work ethic, and flawless craftsmanship are a long-time tradition. They are available at hundreds of distributors worldwide who offer more than 100 different types of Xuron quality-crafted hand tools and associated products.
Contact Information:
For more information contact:

Xuron Corporation
Abby Robey
Marketing
62 Industrial Park Road
Saco, ME 04072-1840
(207) 283-1401 FAX
(207) 283-0594
e-mail: arobey@xuron.com
www.xuron.com