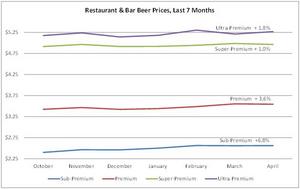 Beer prices at restaurants and bars have increased in the past seven months
NEWTON, MA--(Marketwired - May 14, 2013) - Restaurant Sciences LLC, an independent firm that closely tracks food and beverage product sales throughout the foodservice industry in North America, unveiled that the high-volume premium and sub-premium beers popular in America -- names like Budweiser, Coors Light, Miller Lite, Pabst Blue Ribbon, etc. -- have seen a 3.5% to 6.8% price jump in the nation's eating and drinking establishments over the past seven months (October '12 thru April '13). The accompanying chart shows the increases by price segment.
"While all the attention has been on Craft (Ultra-Premium) beers, the price of mainstay brands in the mid-price (Premium) tier have risen more dramatically. And traditionally lower-priced beers such as Pabst Blue Ribbon have seen sizeable double-digit price increases in both restaurants and bars & nightclubs. In fact, the only segment of the restaurant industry holding the price line on these beers is the value-conscious Family Dining segment, with average per-party checks under $40," said Ellis.
"Across all restaurant and bar segments, and all beverage alcohol categories, the one constant is rapidly increasing prices in the fine-dining tier," said Ellis. "This segment had some of the hardest-hit establishments in the last recession, and average drink prices there are increasing with a vengeance."
About Restaurant Sciences
Restaurant Sciences is the premier provider of syndicated data and insights on food and beverage consumption in restaurants, bars, nightclubs and other foodservice establishments. The company delivers market share, market basket, competitive analysis, pricing, promotional, trend, segmentation and custom analytics to food and beverage manufacturers and distributors, as well as the broader industry they serve. Restaurant Sciences transforms over $1 Billion per month in guest check-level sales information into detailed data and insights across all segments of the foodservice landscape in the United States and Canada. Insights are delivered online through their business intelligence tool or through custom analytics. Visit www.restaurantsciences.com.
Contact Information:
Media Contact:
Marianne Sabella Dempsey
Carlton PR & Marketing
(508) 435-2020