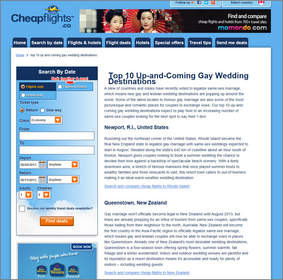 Screenshot of Cheapflights.ca's Top 10 Up-and-Coming Gay Wedding Destinations. As LGBT Pride Month kicks off in June, we celebrate the marriage equality progress over the last 12 months with this growing list of destinations where gay and lesbian couples can now celebrate their love and commitment.
TORONTO--(Marketwired - May 29, 2013) - With LGBT Pride Month celebrations taking place around the globe in June, the travel experts at Cheapflights.ca, the online leader in finding and publishing travel deals, decided to take a look at the progress of marriage equality this past year with the release of its Top 10 Up-and-Coming Gay Wedding Destinations. As one of the first countries to legalize same-sex marriage, Canada was and is a trailblazer in the gay pride movement. In the past twelve months, many more corners of the world have come to embrace marriage equality as well. The gay marriage movement is now racing forward faster than ever before, opening up a host of new wedding destinations for gay couples.
Join us as we salute those around the world taking this step forward. Here are five new hot spots where gay and lesbian couples can celebrate their love and commitment and have it officially recognized.
Newport, R.I., United States - Rounding out the northeast corner of the United States, Rhode Island became the final New England state to legalize gay marriage with same-sex weddings expected to start in August. Situated along the state's 645 km of coastline about an hour south of Boston, Newport gives couples looking to book a summer wedding the chance to declare their love against a backdrop of spectacular beach scenery. With a lively downtown area, a stretch of famous mansions that once played summer hosts to wealthy families and three vineyards to visit, this resort town is an ideal warm-weather wedding destination.


Queenstown, New Zealand - Gay marriage won't officially become legal in New Zealand until August 2013, but Kiwis are already prepping for an influx of tourism from same-sex couples, specifically those hailing from their neighbour to the north, Australia. New Zealand will become the first country in the Asia-Pacific region to officially legalize same-sex marriage, which means gay and lesbian couples will now be able to exchange vows in places like Queenstown. Already one of New Zealand's most desirable wedding destinations, Queenstown is a four-season town offering spring flowers, summer warmth, fall foliage and a winter wonderland. Indoor and outdoor wedding venues are plentiful and its reputation as a resort destination means it's accessible and ready for plenty of visitors -- including wedding guests.


Montpellier, France - Often dubbed France's unofficial capital of gay culture, Montpellier offers couples a beautiful wedding destination on the southern shore of this romantic European country. Situated along the Mediterranean Sea in the Languedoc-Roussillon region, Montpellier has a vibrant arts scene and a young vibe. From wandering among medieval architecture to taking in a show, couples and wedding guests won't be at a loss for cultural experiences here. The city's sunny, Mediterranean climate and its proximity to some of France's finest vineyards don't hurt either.


Copenhagen, Denmark - While Denmark previously allowed short blessing ceremonies for gay and lesbian couples, the country made formal church weddings available to same-sex partners last year. The capital city of Copenhagen is teeming with history and romantic scenery. Plenty of canals, parks and narrow streets give the city an intimate feel for couples looking for a more private affair. Award-winning restaurants are turning Copenhagen into a respected foodie destination and the beer scene is booming with microbreweries popping up across the city. With one of the highest numbers of restaurants and bars per capita in the world and watering holes that often stay open until 5 or 6 a.m., couples won't be at a loss when it comes to taking the celebrations into the wee hours of the morning.


Rio de Janeiro, Brazil - Gay marriage is only legal in some parts of Brazil, but the state of Rio de Janeiro officially invited gay and lesbian couples to walk down the aisle inside its borders this year. The people here know how to celebrate. Known for its colourful carnival festivities, mountainous scenery and famous landmarks like Ipanema Beach, Sugarloaf Mountain and the Christ the Redeemer statue (one of the New Seven Wonders of the World) atop Corcovado Mountain, Rio de Janeiro offers plenty of experiences for wedding guests. And you can be sure they're prepared to host a wedding celebration; after all, the city is preparing to play host to athletes and spectators from around the world during the 2016 Olympic Games.


Camden, Maine; Montevideo, Uruguay; Rehoboth Beach, Delaware; Seattle, Washington and Saba, Dutch Caribbean round out our list of Top 10 Up-and-Coming Gay Wedding Destinations. For further details on these destinations and to read Cheapflights.ca's complete list, visit www.cheapflights.ca/travel/top-10-up-and-coming-gay-wedding-destinations. 
About Momondo Group
Momondo Group is an online travel media and technology company that is driven by the belief that an open world is a better world. The group now serves travel search and inspiration to over 13 million visitors a month -- plus 6 million travel newsletter subscribers -- via its Cheapflights (www.cheapflights.ca) and momondo (www.momondo.com) brands.
Skygate began the sourcing of complex air-travel data in 1992, while Cheapflights pioneered the online comparison of flight deals for users in 1996 and momondo launched meta-search in the Nordic countries in 2006. 
The Group has offices in London, Copenhagen, Boston and Toronto, with a consumer base across more than 20 core international markets but users all over the world.
Follow us on Twitter: twitter.com/cheapflights
Follow us on Facebook: www.facebook.com/cheapflights
Contact Information:
Contact Information:
Dalia Blumenthal
Publicist
Mobile: +1 416-788-4573
E-mail:
Website: www.cheapflights.ca