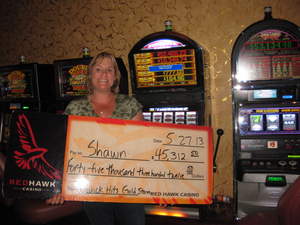 Shawn, from Stockton, Calif., celebrates her $45,312 jackpot win at Red Hawk Casino.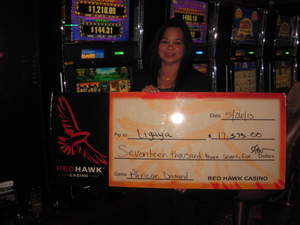 Ligaya, from Pacifica, Calif., celebrates a $17,375 slot jackpot at Red Hawk Casino.
PLACERVILLE, CA--(Marketwired - May 29, 2013) -  The slots at Red Hawk Casino paid out more than $250,000 in slot jackpots this past holiday weekend to several Rewards Club players. Just a few of these lucky players are highlighted below.
Shawn, from Stockton, Calif., was celebrating the holiday weekend with a visit to Red Hawk. She had been playing a ten cent Gold Storm Quick Hit slot machine for just a short time when the reels lined up for a $45,312 jackpot. Shawn plans to use some of her winnings to travel to Thailand for vacation.
Another lucky player from Alameda, Calif., was visiting the casino over the weekend enjoying the penny slots. He was playing a one cent Fire Ball slot and was thrilled when it landed on a $42,675 jackpot.
The winning continued with Ligaya, from Pacifica, Calif., who visits Red Hawk Casino every week. Ligaya sat down at an African Diamond slot and was playing for just 25 minutes when she was delighted with a $17,375 jackpot. When asked what she planned to do with her winnings, Ligaya said, "I'm going to share it with my family and friends."
"Our guests voted us Sacramento's Best Casino three years in a row because they enjoy winning more jackpots, more often. They also know our team members provide them with a first-class casino experience that is unmatched," says Bryan deLugo, general manager.
Visit www.redhawkcasino.com to see all of the recent winners. Red Hawk Casino is conveniently located on Highway 50 at Red Hawk Parkway. Call 888-573-3495 for more information.