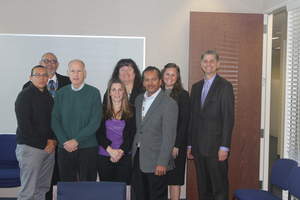 Gov. Brown with Tribal Leadership after signing the Amended Compact for the Shingle Springs Tribe. November 2012
SHINGLE SPRINGS, CA--(Marketwired - May 30, 2013) - Today, California Gov. Edmund G. Brown signed AB 1267 which ratifies the amended compact he signed with the Shingle Springs Band of Miwok Indians last November. The ratification bill was approved by both houses of the legislature with zero opposition. The compact has been forwarded to the Department of the Interior for final approval.
The compact allows the Tribe, which owns and operates Red Hawk Casino, to restructure and refinance its debt to ensure financial viability of its gaming enterprise and its continued operation as an economic engine for El Dorado County.
Tribal Chairman Nicholas H. Fonseca said, "This amended compact is crucial to Red Hawk Casino's financial sustainability and was agreed upon in the spirit of the Indian Gaming Regulatory Act to finally allow the Tribe to benefit from its tribal gaming. This compact will enable our gaming enterprise to be in a position to continue to benefit our tribal members, our employees, the state and our local community."
The Shingle Springs Tribe has a long history of positive partnership with the state and El Dorado County. The Tribe has made, and will continue to make, significant contributions to El Dorado County to mitigate the impacts of its gaming facility. The Tribe funds public safety and road improvement projects, and operates a health clinic. All of these projects serve the broader community and these benefits were achieved with funds generated from Red Hawk Casino. 
Contact Information:
Media Contact
Kim Stoll
Director of Public Relations
530-387-4183 - office
775-232-4976 - cell