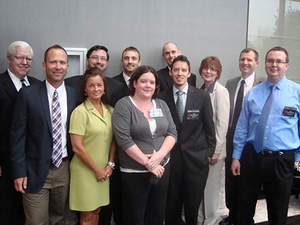 The AtNetPlus team celebrates at the 2013 World Class Customer Service Awards. Front Row: David Kaiser, Rochelle Schenk, Angela Bergmann, Pat McGuinness, and Bill Mastrobuono. Back Row: Chris Horning, Rob Walker, Matt Micciche, Jay Mellon, Ellen Kurr, and Jim Laber.
STOW, OH--(Marketwired - Jun 11, 2013) - AtNetPlus, Inc., a leader in Cloud solutions, today announced that the IT services firm has been recognized for its exceptional customer service. The company joined an elite group of 25 businesses in northeast Ohio that were recently named to the World Class Customer Service Class of 2013.
AtNetPlus Partner Jim Laber noted, "We've been devoting a lot of time and attention to customer service for the past several years. It's become an integral part of the way we do business throughout the organization. From the interview process and new employee training, to staff meetings and daily conversation everyone is reminded to put the customer first."
He continued, "The shift in mindset from being an Information Technology company to being a service company that provides IT has proven invaluable to our success. We're honored to have made the list this year. I can't stress enough how proud we are of the commitment of our employees to this principle. It is a privilege to work with all of our clients and have the opportunity to build strong relationships with them."
About AtNetPlus
AtNetPlus helps small and mid-sized technology dependent organizations improve productivity and stay competitive. Attentive IT support from AtNetPlus -- we keep you connected, secure, and working.  
Contact Information:
Editorial Contact:
Ellen Kurr
Business Process/Communications Manager
AtNetPlus, Inc.
Phone: 330-945-5685
Fax: 330-945-5684
news@atnetplus.com
http://www.AtNetPlus.com