William, from Sacramento, Calif., celebrates a $20,000 slot jackpot at Red Hawk Casino.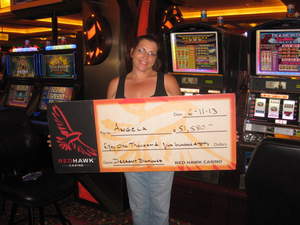 Angela, from Fair Oaks, Calif., celebrates a $51,580 slot jackpot at Red Hawk Casino.
PLACERVILLE, CA--(Marketwired - Jun 12, 2013) - The slot jackpots at Red Hawk Casino are heating up in June, with two lucky players taking home a total of more than $70,000.
Angela, from Fair Oaks, Calif., is a regular to Red Hawk and visits at least once per week. She was playing some of her favorite slots on Tuesday, June 11 and decided to try her luck on a Decadent Diamonds slot. Within minutes Angela saw the slot symbols line up for an amazing $51,580 jackpot. She plans to use some her jackpot winnings to pay bills and says she'll keep coming back to Red Hawk Casino, where she feels luckiest.
Later the same day William, from Sacramento, Calif., began his visit playing an Ultimate Poker slot. He then moved on to try out some other slot machines. After a short time, William decided to try his luck on the Ultimate Poker slot again. In just five short minutes the slot rewarded his decision with a $20,000 jackpot. William plans to use some of his winnings to put toward his mortgage.
"We're thrilled to pay out more jackpots, to more local winners, more often. This is just one of the reasons our players voted us Sacramento's Best Casino three years in a row," says Bryan deLugo, General Manager. "Our players enjoy the variety of slots we have to offer, and know they will receive a first-class casino experience that is unmatched."
Visit www.redhawkcasino.com to see all of the recent winners. Red Hawk Casino is conveniently located on Highway 50 at Red Hawk Parkway. Call 888-573-3495 for more information.