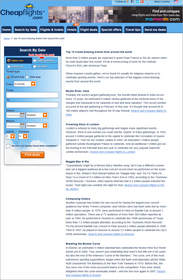 Screenshot of Cheapflights.com's Top 10-Crowd Drawing Events from around the World. With the Pope's upcoming visit to Brazil expected to attract more than 2 million people, we decided to take a look at other events that draw in the masses and make a mark in history.
BOSTON, MA--(Marketwired - Jul 9, 2013) - On July 22nd, Pope Francis arrives in Rio de Janeiro, Brazil. More than 2 million people are expected to greet the Catholic Church's first Latin American Pope on his first major international trip. The travel experts at Cheapflights.com, the online leader in finding and publishing travel deals, decided to take a look back at other events in the past that have attracted multitudes to come up with their list of Top 10 Crowd-Drawing Events from around the World.
From religious festivals to live concerts to major sporting victories, here are five of Cheapflights.com's Top 10 picks for the top crowd-drawing events from around the world.
Mystic River, India - Probably the world's largest gathering ever, the Kumbh Mela festival in India occurs every 12 years. An estimated 8 million Hindus gathered at the mythical rivers of the Ganges and Saraswati to be cleansed of sins and seek salvation. This record number occurred at the last gathering in February of this year. It's thought that around 80 to 100 million pilgrims visit throughout the 55-day festival. 


Crowning Glory in London - London is witness to many big gatherings and stages many significant events. However, there is one woman you could call the 'Queen' of mass gatherings. In 1953, around 3 million people gathered in the capital to celebrate the Coronation of Queen Elizabeth II. Then for her Golden Jubilee in 2002, an estimated 1 million people gathered outside Buckingham Palace to celebrate. And an additional 1 million got out the bunting in the Pall Mall area last year to celebrate her very popular Diamond Jubilee anniversary.


Maggie May in Rio - "Copacabana" might be a famous Barry Manilow song, but it was a different crooner who set a biggest-audience-at-a-live-concert record when he performed on the iconic beach in Rio. Britain's Rod Stewart belted out "Maggie May" and "Da Ya Think I'm Sexy" to a crowd of 3.5 million on New Year's Eve in 1994, according to the "Guinness World Records." However, other reports estimate that 4.2 million people watched the rocker. That night was certainly the night for Rod.


Composing History - Another musician has broken his own record for having the largest-ever concert audience four times. French composer Jean Michel Jarre has been seen live by more than 8 million people. In 1979, Jarre performed in Paris on Bastille Day to around 1 million spectators. There was a TV audience of more than 100 million reported as well. In 1985, he performed in Houston to celebrate the 150th anniversary of Texas. More than 1.5 million people attended, according to the "Guinness World Records." For his second Bastille Day concert in Paris around 2 million people attended in 1990. Then in 1997, he played in Moscow to around 3.5 million people to celebrate the city's 850th anniversary.


Breaking the Boston Curse - In Boston, an estimated 3 million baseball fans celebrated the Boston Red Sox World Series win in 2004. They weren't just celebrating their team's first title win in 86 years but also the end of the infamous 'Curse of the Bambino.' The curse, one of the most well-known sporting superstitions, began when the team sold legendary pitcher Babe Ruth (nicknamed The Bambino) to the New York Yankees in 1919. Before this, the Sox were one of the most successful teams in the competition. Fans were clearly delighted when the curse eventually ended -- and the Sox won again in 2007. 


Rounding out our list of events that have attracted and continue to draw mobs of people are: World Cup Fiesta, Madrid; City Protests Worldwide; Pope's Blessing; New York Goes Green (St. Patrick's Day Parade); and the Annual Pilgrimage to Mecca. To read the jam-packed details on Cheapflights.com's Top 10 Crowd-Drawing Events from around the World, visit www.cheapflights.com/travel/top-10-crowd-drawing-events-from-around-the-world.
About Momondo Group
Momondo Group is an online travel media and technology company that is driven by the belief that an open world is a better world. The group now serves travel search and inspiration to over 13 million visitors a month -- plus 6 million travel newsletter subscribers -- via its Cheapflights (www.cheapflights.com) and momondo (www.momondo.com) brands.
Skygate began the sourcing of complex air-travel data in 1992, while Cheapflights pioneered the online comparison of flight deals for users in 1996 and momondo launched meta-search in the Nordic countries in 2006. 
The Group has offices in London, Copenhagen, Boston and Toronto, with a consumer base across more than 20 core international markets but users all over the world.
Follow us on Twitter: twitter.com/cheapflights
Follow us on Facebook: www.facebook.com/cheapflights
Contact Information:
Contact Information:
Cheapflights.com
Mobile: +1 416-788-4573
E-mail:
Website: www.cheapflights.com