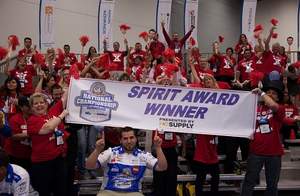 Lincoln Military Housing employees pictured above with Martinez after winning the spirit award.
SAN DIEGO, CA--(Marketwired - Jul 10, 2013) - Congratulations to Joel Martinez of Lincoln Military Housing, who was one of 20 finalists to participate in the National Apartment Association's (NAA) Maintenance Mania. Competition started in August of 2012 when more than 4,000 maintenance professionals competed in qualifying events hosted by 60 local NAA affiliated associations. Contestants were eliminated until the top 20 finalists were selected to compete in the 2013 Maintenance Mania National Championship that was held on June 20th in San Diego.
Maintenance Mania® is a national program offered by NAA and presenting sponsor HD Supply (HDS), in which maintenance technicians compete in various skill-based games. Each NAA local affiliate has their maintenance technicians compete individually to win various local awards and a chance to compete at the National Championship held at the annual NAA Education Conference & Exposition. Click here to see a video of the event and learn more about the awards presented.
The event consists of several skill-based contests created from common maintenance activities. All games are timed to determine the fastest competitor in each game and overall. There is also a model race car competition where participants build their own race cars prior to the event, aiming to have the fastest and most creative car built out of maintenance supplies.
Joel qualified for the national event by coming in first place at the San Diego Apartment Association's competition and having the best score in all of California. Click here to read an interview with Joel on the NAA website. Lincoln Military Housing recognizes their maintenance workers play a key role in the apartment management industry and values their hard work and dedication to Lincoln Military Housing residents.
About Lincoln Military Housing
Established in San Diego in 2001, Lincoln Military Housing has grown to command a nationwide presence and a reputation for outstanding service to military members and their families. Managing more than 31,000 homes across the nation, and hosting more than 500 free events a year, Lincoln Military Housing is proud to support the American military. More than just a house, Lincoln Military Housing seeks to provide a home, a community, and a strong network of support for servicemen and women, and their families.
Contact Information:
Media Contact

Cindy Farless
(858) 505-4136 ext. 223
cfarless@lpsi.com