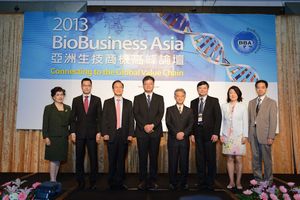 From left to right: Alice Chiang-CEO of Teratech, Andy Liu-President of Asia Pacific and China, IMS Health, Johnsee Lee- Chairman of Development Center for Biotechnology, Chung-Liang Chien-Vice Executive Secretary of Technology Reports of Executive Yuan, Ching-Yen Tsay-Chairman of ITRI, Richard Shau-General Director of ITRI's Biomedical Technology and Device Research Labs, Marietta Wu-Managing Director of Burrill & Company, Yuan-Hua Ding-Head of Pfizer's External R&D Innovation, Asia/Pacific
TAIPEI, TAIWAN--(Marketwired - Jul 17, 2013) -  BioBusiness Asia, the event that global investors and biotech companies look forward to each year, takes place on July 17 and July 18. The theme for BioBusiness Asia 2013 is "Connect to the Global Value Chain," and invited to this year's event are authoritative figures in the industry including Andy Liu, President of Asia Pacific and China of IMS Health, the world's leading provider of biopharmaceuticals information, Ken J. Lee, Quintiles East Asia's Head of Site Services Asia, and many other global biotech experts.
Industrial Technology Research Institute (ITRI) Chairman Ching-Yen Tsay stated that BioBusiness Asia has already become an important date on the annual calendar for members of the biotech industry and the venture capital community. Each year, biotech experts from the world assemble in Taiwan to share their observations on the latest trends and successes in the industry, enabling industry representatives and venture capitalists attending this interactive platform to act on opportunities. In the spirit of this year's theme "Connect to the Global Value Chain," experts from a variety of fields have been invited to attend, including the influential venture capital firm Burrill & Co. and US biotech marketing and distribution network regulatory expert -- landsglobal, LLC. Also, a representative from IMS Health will analyze the world's biotech manufacturing environment. Participants will come away with a comprehensive understanding of the latest happenings in the biotech venture capital industry, the climate for the industry to thrive, and the regulatory environment. This will help Taiwan's biotech industry to connect to the global biotech industry in the shortest time possible. 
ITRI Biomedical Technology and Device Research Laboratories General Director Richard Shau, who is the moderator of this year's event, stated that Taiwan's biotech industry over the past several years has mainly been involved in preliminary R&D. Now, however, products being developed by a number of local biotech manufacturers have moved from the developmental phase into Phase II or even Phase III clinical trials. This makes the industry here much more attractive to international venture capitalists, he added. BioBusiness Asia, according to Dr. Shau, has become an important platform for interaction between venture capital funds and Taiwan's biotech industry.
Contact Information:
Press Contact:
Office of Marketing Communications of ITRI
Hans Wu
TEL: 886-35917612