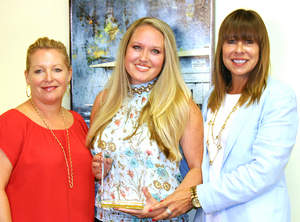 Pictured left to right are Sandy Huseby, CACM 'Rookie of the Year' winner Courtney Chastain, and Margo Crummack
LAKE FOREST, CA--(Marketwired - Aug 7, 2013) - Courtney Chastain, CCAM, has garnered a 'Rookie of the Year' award from the California Association of Community Managers (CACM). Chastain serves as a Community Management Consultant for Crummack Huseby, Inc. Co-founder/CEO Margo Crummack made the announcement.
The CACM Vision Awards program is part of the annual Statewide Expo & Conference. The awards recognize the "best of the best" -- individuals who have displayed outstanding achievements in the community association management industry. This year's nominees and winners were honored at the Vision Awards Dinner & Ceremony held last month in Anaheim. 
"We're thrilled that Courtney has been awarded for her exceptional abilities displayed during her first year in the community management industry," said Crummack. "Clients who have worked with Courtney have known from the gitgo that she's a solid professional; we're honored that CACM recognizes this too!"
About Crummack Huseby
Located in Lake Forest, CA, Crummack Huseby is a recognized leader in the association management services industry. The company, founded by Margo Crummack, PCAM, CCAM, and Sandra L. Huseby, PCAM, CCAM, comprises a team of professionals that bring a new level of passion and excellence to property management. All are Certified Community Association Managers, affiliated with leading industry organizations. Crummack Huseby provides a wide array of property management services. Whether it's the Operations Department promptly processing work orders, the CC&R Oversight Department enforcing governing documents, or the Architectural Coordinator handling every plan review detail, the team at Crummack Huseby guides homeowners every step of the way.
About CACM
Founded in 1991, CACM is a professional trade association focused on elevating the professionalism and success of the California community management industry. CACM is the only organization in California whose membership is comprised entirely of community association managers and association practitioners.
Contact Information:
Contact:

Neal Leavitt
Leavitt Communications
760/639-2900