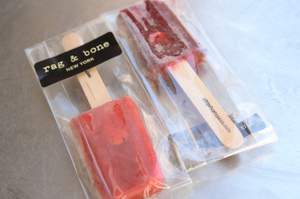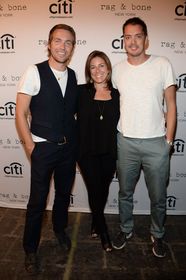 David Neville - rag & bone, Jennifer Breithaupt - Citi, Marcus Wainwright - rag & bone
NEW YORK, NY--(Marketwired - Sep 9, 2013) - A limited number of CITI® cardmembers were able to attend Friday's rag & bone Women's Spring/Summer 2014 Runway Show and see first hand the rag & bone designers David Neville and Marcus Wainwright do what they do best, and sit amongst some of the top fashion media and glitterati including Vogue's Anna Wintour and Grace Coddington, Glamour's Cindi Leive, actress/director Lake Bell and her husband artist Scott Campbell, fashion bloggers Scott Schuman, Bryanboy, Leandre Medine, Chaira Ferragni, Garance Dore, and Rumi Neely, NBA's Russell Westbrook, Ioanna Gika of the band Io Echo and Jessica Seinfeld.
Cardmembers also had special access to the CITI® backstage VIP lounge where they were served refreshments and able to have their photos taken in the CITI® sponsored Leica photo booth and both projected on a screen inside the VIP lounge and printed for the partygoers to take home. There was also a popsicle truck in the front of the house where attendees were served assorted flavored icy treats on CITI®/rag & bone popsicle sticks made exclusively for Friday's event.
Beginning today, CITI® will embed the live stream (http://www.citiprivatepass.com/landing/rag_and_bone.html) of the rag & bone Women's Spring/Summer 2014 Runway Show on the Private Pass website offering all cardmembers a bird's eye view of Fashion Week at its best. Combining their British heritage with direction, modern design, rag & bone instantly distinguished itself upon launch in 2002 in New York, NY, and Friday's show was one of the most anticipated of the season.