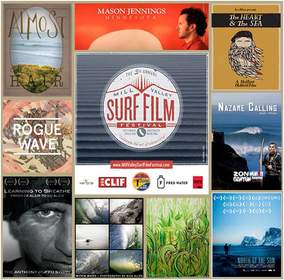 Fred Water is proud to support the 2nd annual Mill Valley Surf Film Festival at the Sweetwater Music Hall in downtown Mill Valley on September 13th and 14th, 2013.
SAUSALITO, CA--(Marketwired - Sep 10, 2013) - Fred Water is proud to support the 2nd annual Mill Valley Surf Film Festival at the Sweetwater Music Hall in downtown Mill Valley this Friday and Saturday. The event brings together the Bay Area surf community in Mill Valley to enjoy short and feature surf films, art, listen to music and revel in the magic of the ocean.
The films presented at the Mill Valley Surf Film Festival will be accompanied by concerts, art and ocean related charities. To view the schedule and purchase tickets, please visit www.millvalleysurffilmfestival.com/schedule and sweetwatermusichall.inticketing.com/events.
Listed below is a list of the short and feature films that will be playing at the film festival:
Feature Films:
The North Canyon: Nazare Calling by Garrett McNamara
Almost Cut My Hair by Ryan Lovelace
North of the Sun by Jørn Nyseth Ranum and Inge Wegge
Learning to Breathe by Rocky Romano
The Heart and the Sea by Nathan Oldfield
Short Films:
Variables by Justin Turkowski
Peanut Butter by Leah Dawson
Compassing by Cyrus Sutton
The Present Moment by Will Suto
Anything Sing by Kai Neville
The Beginning of Something Big by Doug Walker
New England Blood by Dylan Ladds and Ryan Scura
Groundswell by Chris Malloy
Diosa de la Costa by Ed Fladung
Party Mix by Hayley Gordon
North by Mikey DeTemple
The Sunnydale Kids by Adam Warmington
Poseidon's Playground by Kaikea Nakachi
Fred Water is a local company with its headquarters on the waterfront of Sausalito. In addition to supporting the event through sponsorship, Fred will be hydrating the film fest attendees with water in refillable flask-shaped BPA-free bottles, which reduce waste and make drinking water convenient. The company is also providing Staff tee shirts upcycled from 100% recycled plastic bottles. Each tee diverts 6 bottles from landfills and ocean shorelines.
Connect with Fred Water on Facebook, Twitter and Instagram:
Site & Store: FREDWATER.COM
Facebook: Facebook.com/FREDWATER
Twitter @FREDWATER
Instagram: @FREDWATER
About FRED WATER:
Two guys in Brooklyn created a brand that advocates the indisputable greatness of water, and they offered it in a flask-shaped bottle that makes staying hydrated throughout the day easy. Today Fred's pocket-friendly, refillable bottles are BPA-free and Phthalate-free, and come carrying velvety smooth, exceptionally pure natural spring water from the USA. Since Fred Water believes in reincarnation, the bottles can be upcycled into super soft t-shirts when they are end-of-life. Refill and respect: Learn more at FredWater.com.
Contact Information:
For more information, contact:
Ashton Maxfield
949.289.6493
ashton@masterplanpr.com
or
Deborah Choi
714.310.9651
deborah@masterplanpr.com